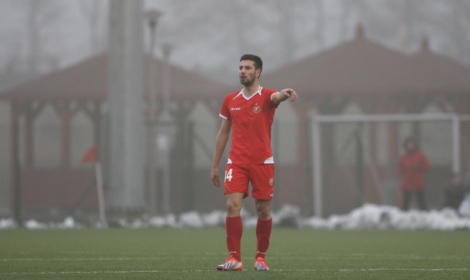 Left-back Yani Urdinov will continue his career in Poland after he reached an agreement with Widzew Łódź on Saturday.
The new team for Yani Urdinov is now known after he passed a medical and agreed to terms with Polish top division side Widzew Łódź on Saturday.  Urdinov moves to Poland as a free agent after his contract with Željezničar expired at the conclusion of the 1st half of the season in Bosnia.
Urdinov and his agent had been in contact with Widzew Łódź for several months before terms were finally agreed on Saturday for Yani to join the club.  Urdinov already played for Widzew Łódź, also on Saturday, during a 4:0 friendly victory over Radomiak Radom.  Yani played the opening 45 minutes.
Widzew Łódź lineup:  Krakowiak (46, Wolański), Kikut, Nowak (68, Rozwandowicz), Mroziński (68, Stępiński), Urdinov (46, Kaczmarek), A. Visnjakovs (62, Christow), Lafrance (46, Augustyniak), Kasprzak (68, Jonczyk), Batrović (68, Kasperkiewicz), Rybicki (62, Gela), E. Visnjakovs (68, Staroń).
Yani's new team currently finds itself in last place of the Polish top division following the completion of the opening 21 rounds.  Widzew Łódź, at 15 points, trails Zagłębie Lubin and Podbeskidzie by 2 points at the bottom of the table.  Widzew Łódź will look to turn around its fortunes during the second half of the season which gets underway in mid February.
With his signing, Urdinov becomes the second Macedonian player in the top Polish league, joining midfielder Ostoja Stjepanovikj who is under contract with Wisła Kraków.  Striker Hristijan Kirovski also signed with a Polish team (GKS Bełchatów) recently, but they play in the second division.