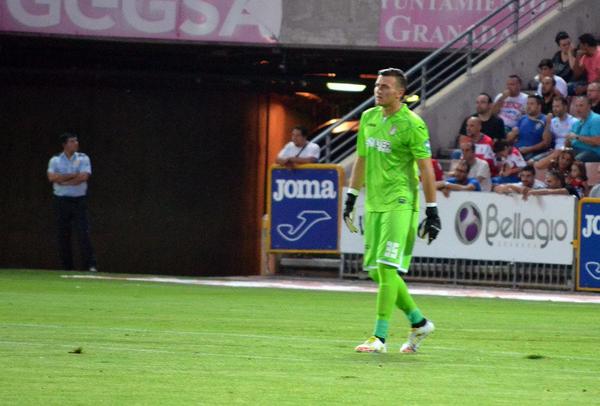 Later today, Stole Dimitrievski will start in goal when Granada takes on Deportivo La Coruña in the opening round of the new Spanish season.
In the last round of the 2013-14 season, Granada's starting keeper Roberto Alvarellos collected his fifth yellow card of the campaign.  That leads to an automatic one game suspension which carries over in the event that the ban occurs in the final round.  So, Alvarellos will serve his suspension in Saturday's opening game against Deportivo La Coruña.
With Alvarellos out of the picture, the Granada manager Joaquín Caparrós had to decide between Stole Dimitrievski and Oier Olazábal, the other two keepers on the roster, as to who would start the match.  Caparrós made that decision on Friday when he told the media that he will start Dimitrievski.  Stole was supposed to be the #3 keeper on the first team (and mostly start on the team's B team), but he had a good summer and displayed good performances in both trainings and friendlies.  Dimitrievski outperformed Olazábal (who Granada signed in the summer from Barcelona B) and Caparrós decided to put his faith in the 20-year-old Macedonian keeper.
According to media reports out of Spain, Dimitrievski has grown a few inches over the past year and has shown steady development.  Who knows, with a good performance on Saturday, maybe Stole can make Granada's manager think twice about changing keepers once Roberto Alvarellos serves his one game suspension.