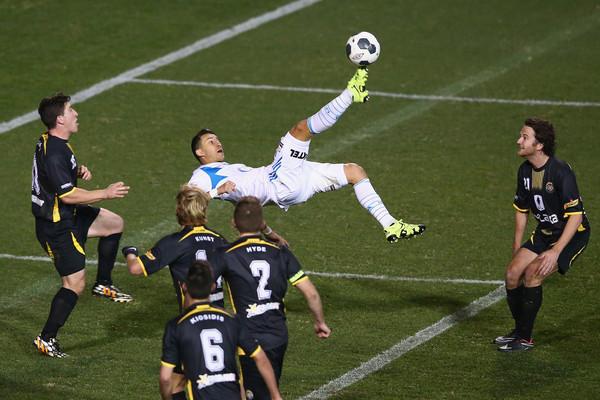 Arijan Ademi and Daniel Georgievski scored one goal apiece for Dinamo Zagreb and Melbourne Victory, respectively.
Given the positions they play, Arijan Ademi and Daniel Georgievski are unusual goalscorers. However, each player managed to record one goal on Tuesday. Ademi, a defensive midfielder, scored against Molde in the Champions League, while Georgievski, a wing-back, scored against Balmain Tigers in the FFA Cup.
Ademi got his goal on a close range effort. That gave Dinamo Zagreb a 2:0 lead over Molde, but the Croatian side had to withstand a late rally. Dinamo even led 3:0 at one point, but Molde would come back to tie the game at 3:3. Since the first leg ended 1:1, the 3:3 result on the road was enough to propel Dinamo Zagreb to the play-off round of the Champions League qualifications.
Video of Ademi's goal:
https://youtube.com/watch?v=2-2n7Q-VFfM
Meanwhile, over in Australia, Melbourne Victory played a Round of 32 FFA Cup match against lower division club Balmain Tigers. It was the first official fixture of the new season, but the Melbourne Victory manager took no chances by naming a strong squad. Georgievski, who actually started at center-back, netted the fourth goal in his team's comfortable 6:0 victory. He scored on a rebound opportunity after the keeper made a good initial save.
To view Daniel's goal, click
here
(fourth goal in video).
This article was written now since there are only six scheduled games for Macedonian players based abroad from this Monday to Thursday. Thus, the midweek internationals performances will be not be published (usually done so on late Thursday/early Friday) this week due to the limited number of games.
On Monday, Krste Velkoski and Daniel Ivanovski were in action for their teams. As for today, besides Ademi and Georgievski, Antonio Stankov also had a game. However, Stankov was an unused substitute in Vejle's cup match in Denmark. As for Wednesday and Thursday, only Mirko Ivanovski is slated to have a game (does not include friendlies which we don't cover). If Mirko plays, then his performance will be summarized under "photo news" which can be found on the upper right of this website.