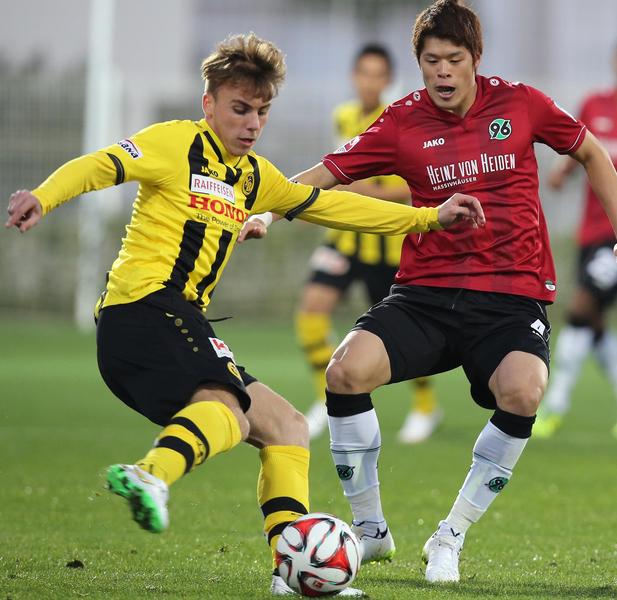 Tauljant Sulejmanov, when asked about his national team future, told us that his main focus right now is Young Boys, his new club.
We first reported on our twitter account (later picked up by other sites) about Tauljant Sulejmanov's interview with leading Swiss newspaper blick.ch. Basically, as a new player of Young Boys, the newspaper wanted to learn more about Taulant. So, they interviewed him on the side of the team's training camp site in Turkey.
Although that interview did not include any direct questions about the national team, at the top was a snippet that Sulejmanov was unsure whether he would represent Macedonia or Albania in the future. It mentioned that Tauljant was proud to have been the youngest debutant in Macedonia's history, breaking the record of Goran Pandev, but that he would not necessarily commit to representing Macedonia moving forward. As a reminder, since his two appearances for the senior national team happened to be friendlies (and not qualifiers), he would still be allowed to switch, if that's what he decides to do. His two caps came in the friendlies against Cameroon and Qatar last summer.
Sulejmanov, born in 1996, has also played for Macedonia's various youth national teams throughout his career. At his age, he is also eligible for the U21 national team as well.
The 18-year-old Sulejmanov had known for months that Young Boys would be his next club. He signed a pre-contract with them last May since no transfer could take place at that time. The reason was that Taulant was 17 (have to be at least 18 years old to transfer abroad). So, he had to wait until the 2015 January transfer window to join the Swiss club. In the meantime, he featured for Rabotnichki in the Macedonian league.
With the aim of clearing things up, we contacted Tauljant on Facebook (where we are friends) to get his side of the story. We asked him whether it was true that he was reconsidering his national team future. This was his response (we communicated in Macedonian with him since he speaks the language):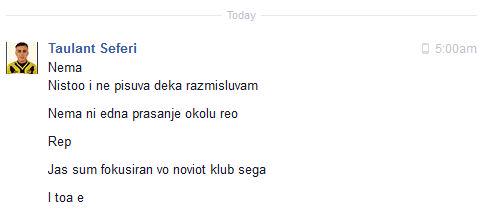 For those that don't speak and/or understand Macedonian, this would be the translation of his response, "There is nothing written that I'm rethinking. Not one question was about the national team. I'm focused on my new club now & that's it."
Tauljant's answer didn't really specify whether the rumors about him switching were true, only that his focus right now is Young Boys. We shall see when rosters are announced in the upcoming months for the Macedonian national team as well as the U21 squad.
Furthermore, Sulejmanov will play under the last name Seferi in Switzerland. That will be the name on the back of his jersey from now on.