Pobeda returns to the Second League after getting past Belasica, while Ljubanci and Gorno Lisiche were the winners of the other two matchups.
There was less drama in the promotion/relegation play-offs of the Second League. Since the score of each first leg ended 4:1, today was only a formality for Pobeda, Ljubanci and Gorno Lisiche.
In Skopje, under a good atmosphere, Pobeda celebrated promotion to the Second League with their fans. They were never threatened today by Belasica. Instead, Pobeda scored the opener just after halftime, while Belasica could only muster a late consolation goal for a 1:1 final. Pobeda won 5:2 on aggregate to secure promotion.
Belasica: Mishovski; Petrov (61′ Mizhorov), Chachev, Kostovski, Conev, Gligorov (54′ Grbashliev), Petkov, Mitevski, Kostadinov (74′ Padeshki), Kocev, Donev.
Pobeda: Jovanoski; Mitrevski, Veljanoski, F. Mircheski, Kolevski, Meglenski, Alomerovikj, Aceski (76′ Nikolov), Karcheski, I. Mircheski (60′ D. Zdraveski), Sharkoski (74′ Cheshelkoski).
Ljubanci also had no problems by easily downing Veleshta once again. Ljubanci won by a three goal margin for the second time, winning 3:0 on Sunday. Veteran striker Boban Janchevski scored one of the goals. Ljubanci demolished Veleshta 7:1 over the two legs to move into the Second League.
Veleshta: Sula; I. Nasufi, Isaku, Andrushi, V. Hani, Zhuta, S. Sheji, F. Hani (Bekteshi), A. Nasufi, Labroski (I. Sheji), Kupa (Choleski).
Ljubanci: Bozhinovski; Blazhev, Shishkov, Kolekjeski, Lazarevski (Bozhinov), Argirovski, Galovikj, Zhepcheski (Nasevski), Mitev, Taseski, Janchevski (Tapchanovski).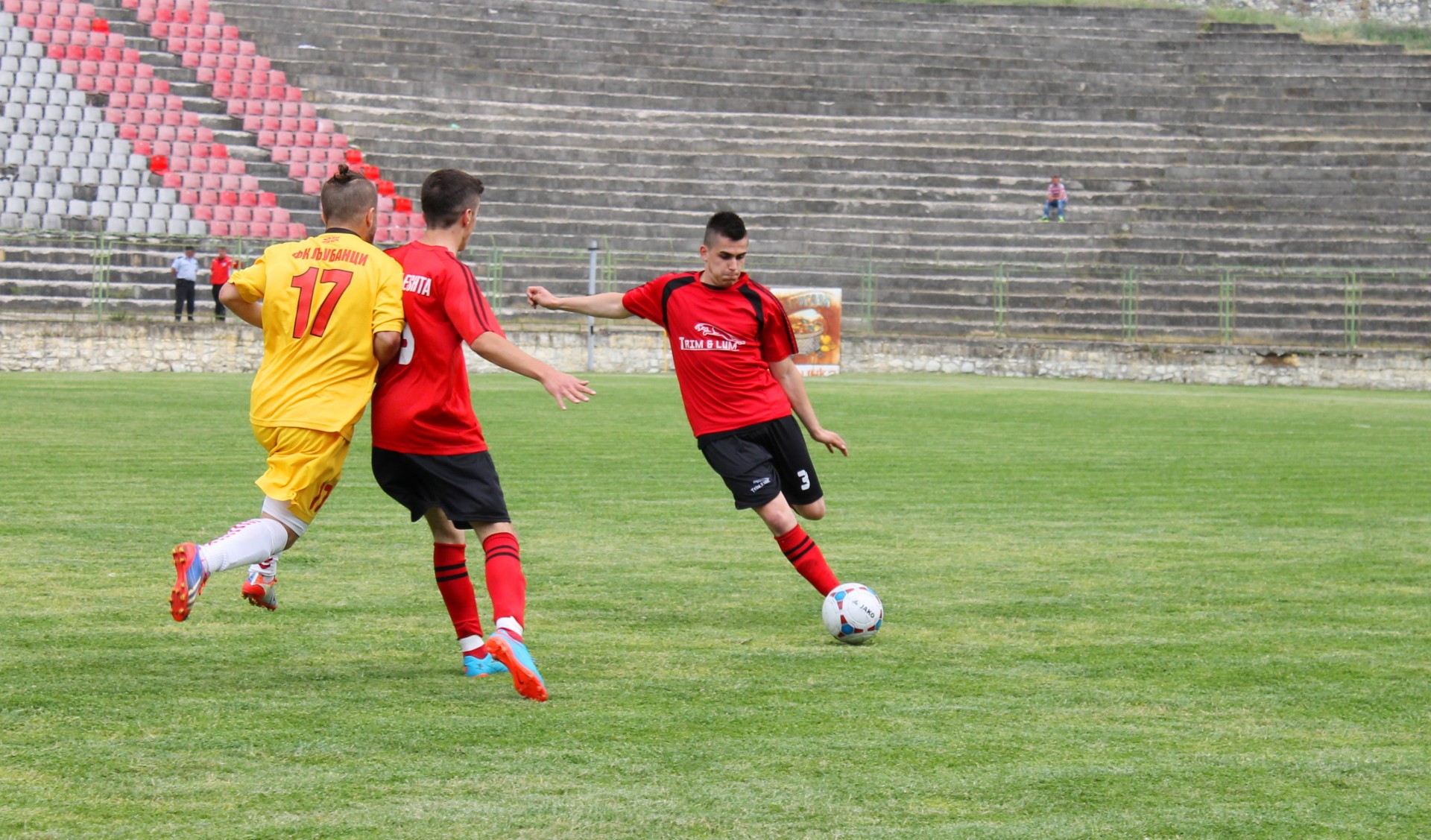 Lastly, in Shtip, Zajazi failed to show up for the return leg against Gorno Lisiche. No reason was given for their no-show, but Zajazi was apparently unhappy with the officiating in the first game. Still, this is very unprofessional for the club. The Macedonian federation awarded Gorno Lisiche an automatic 3:0 victory with which the popular Vulpines stay in the Second League for next season.
Second leg results:
Veleshta – Ljubanci 0:3 (0:1), 1:7 agg.
12′, 77′ Doncho Argirovski, 70′ Boban Janchevski
Gorno Lisiche – Zajazi 3:0 awarded, 7:1 agg.
Belasica – Pobeda 1:1 (1:0), 2:5 agg.
83′ Marion Donev – 46′ Igor Mircheski
The following 10 teams will compete in the Second League for the 2015-16 season: Pelister, Teteks, Gostivar, Makedonija GjP, Vlazrimi 77, Kozhuf Miravci, Skopje, Gorno Lisiche, Pobeda and Ljubanci.