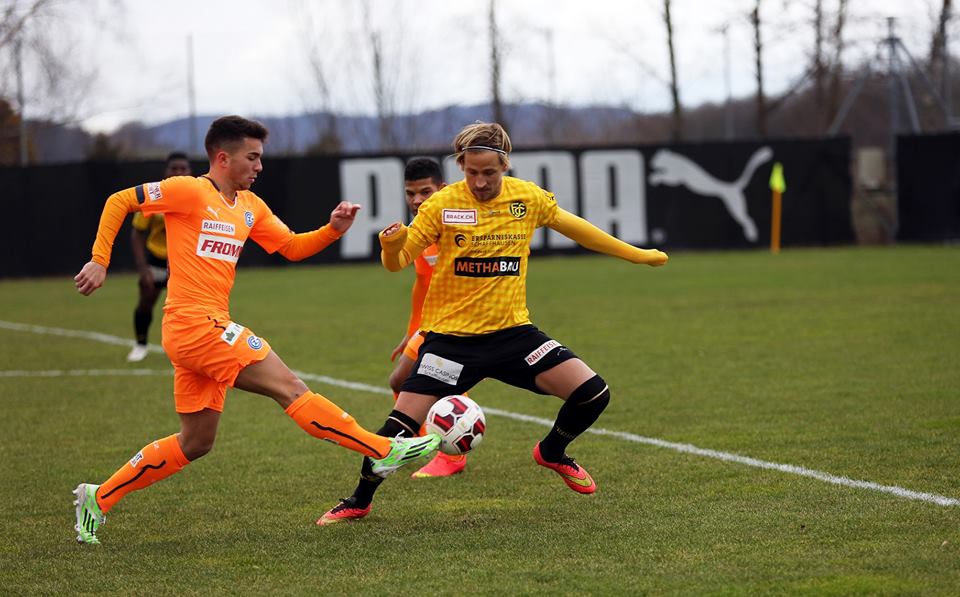 Youngster Nikola Gjorgjev has been promoted to train with the first team of Grasshoppers for the time being.
Nikola Gjorgjev, an attacker born in August of 1997, is one of the top young prospects for Swiss top division side Grasshoppers. He currently plays for their U21 team, but Nikola was promoted to train with the first team of Grasshoppers during their winter camp.
Gjorgjev and three other players from the youth academy accompanied the first team players for their training camp in Marbella, Spain. Furthermore, before their departure, Gjorgjev also played in a friendly for Grasshoppers (see photo above) against Schaffhausen, the team of Ezgjan Alioski.
While looking to see whether Alioski played in that game, we saw the last name Gjorgjev listed on the Grasshoppers lineup. So, we went on their web site where Nikola Gjorgjev was listed on the U21 team. His nationality was listed as Macedonian on the roster.
After that happened, we turned to Facebook to see whether we could find Gjorgjev on the popular social networking site. He indeed did have a profile there under the name Niki Gjorgjev.
So, we wrote to congratulate him on his appearance in the friendly between Grasshoppers and Schaffhausen. After his initial response, we then asked him about his current status with Grasshoppers and whether he would be interested in possibly representing Macedonia in the future. This was his response to that question:

Gjorgjev has been capped by the U18 national team of Swizterland, but as you can see in his response, he does have interest in suiting up for Macedonia in the future. Let's hope he develops properly, secures a place on the Grasshopers first team, and ultimately becomes a solid performer for the Macedonian national team.