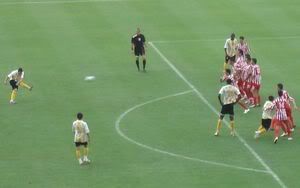 The second round of the Macedonian First League was marked with the interesting opening derby match between Rabotnicki and Makedonija in which the points were shared with a 3:3 draw, despite Makedonija had the lead and a player more during big part of the match.
Rabotnicki – Makedonija GjP 3:3 (0:2)
50' Kirovski, 58' 86' Milosevic – 25' De Brito, 44' Washington, 60' Ilievski
The opening match of the second round didnt started in best way for the hosts and current champions Rabotnicki. In a somewhat slow start with only one chance for Kirovski, it was Makedonija Gjorche Petrov that opened the scoreline with a fabulous free-kick goal scored by De Brito in the 25th minute. Eight minutes later, it only got worse for Rabotnicki after Baze Ilijoski earned a red card following a dangerous tackle from behind. Right before the end of the first half, Washington doubled the lead for his team and it was 0-2 on the half time break. Rabotnicki got to a better start in the second half and with the goals scored by Kirovski in the 50th minute and Milosevic in the 58th they managed to get back on even. However, couple of minutes later Milan Ilievski from Makedonija Gjorche sent an extraordinary shot from 25 meters towards the goal and made it 2:3 for the visitors. Till the end, Milosevic managed to get his name in the goalscorers list once again and equalized the score on 3-3. It turned out that was the final score for this match.
Pelister – Horizont Turnovo 3:1(1:0)
12' Momirovski, 87' Dimitrovski, 90' Simonovski – 74' Lazarovski
Pelister hosted newly promoted Turnovo on Tumbe Kafe in Bitola. As expected, the hosts were big favorites on this match and they took the lead in the 12th minute with the goal by Igor Momirovski. In the 34th minute Pelister's Stepanovski was sent-off and Turnovo was up with a player more. But they failed to use this and Pelister continued attacking with 10 men. In the second half Pelister failed to convert their chances in to goals and they were punished for that when after a fast counter attack Robert Lazarovsk iequalised the score. This was the first goal ever for Turnovo in the Macedonian First League, so the referee had to give end to the celebrations by awarding the scorer with the second yellow card after which both sides were leveled with 10 men on the pitch. The home players didn't allow a surprise to happen in front of their fans, so the experienced Dragan Dimitrovski scored for Pelister on tree minutes from the end and Zoran Simonovski confirmed the victory in the last minute of the match.
Pobeda – Renova 0:1 (0:0)
70' Ali
Video highlights from Rabotnicki-Makedonija
http://uk.youtube.com/watch?v=lKZAgjsNi3k 400 300]
Video from A1