On Wednesday morning, calciomercato.com published a photo showing Pandev taking a medical visit to Genoa.
Goran Pandev has widely been rumored to be joining Genoa this summer. On Wednesday morning, he supposedly visited Genoa to undergo medical tests. The website calciomercato.com published a photo of Pandev wearing Genoa gear at his medical.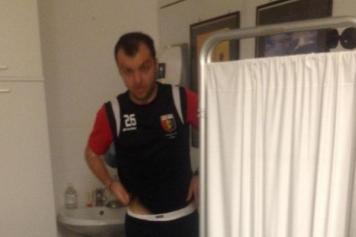 Galatasaray, the current team of Goran, actually had a game yesterday, on Tuesday, but Pandev was once again missing from the matchday squad. It now appears that he was allowed to travel to Italy to take his medical before completing his summer transfer to Genoa.
With Pandev currently being in Italy, we'll see whether Genoa plans to announce his signing in the coming days after he passes his medical, or wait until the summer.