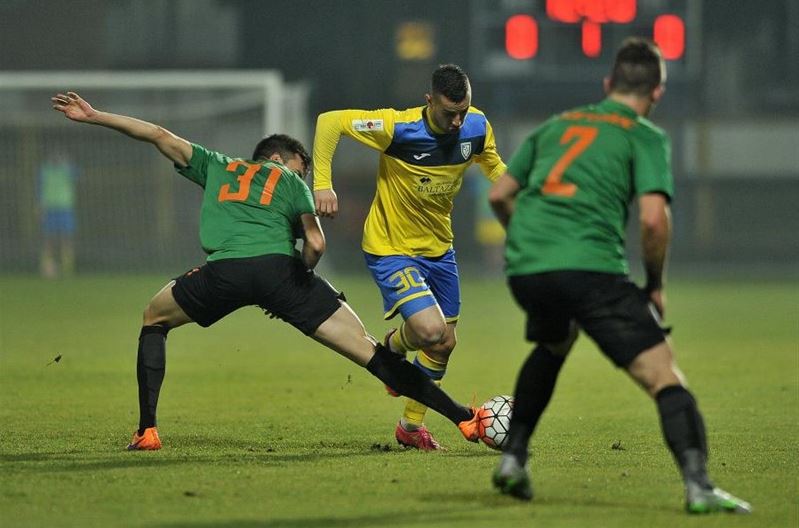 The next player to feature in our interview series is striker Ilija Nestorovski, a former member of Macedonia's youth national teams who now plays in Croatia with Inter Zaprešić.
Ilija Nestorovski was born in the city of Prilep in March of 1990. He told us that he joined the youth academy of hometown club Pobeda when he was just 7 years old. Nestorovski eventually worked his way up the youth categories before joining the senior team of Pobeda as a 16-year-old in 2006. During his time with FK Pobeda, Ilija was considered one of the more talented youngsters in the league and became a mainstay on the youth national teams of Macedonia.
In 2010, Nestorovski took the next step in his career when he transferred to Czech top division side Slovácko. He was initially on trial with the club, but showed enough to be offered a contract. Ilija was regularly on the matchday squad for most games, whether as a starter or on the bench, but he never received consistent playing time. Thus, in the summer of 2011, he was loaned by Slovácko to fellow Czech side Viktoria Žižkov where he spent 6 months. At Žižkov, Ilija notched one goal in 13 league appearances.
Later in January of 2012, Slovácko loaned Nestorovski once again, this time back to the Macedonian league with FK Metalurg. Ilija stayed there for a year-and-a-half before then deciding to sign with Inter Zaprešić in the summer of 2013. He has resurrected his career in Croatia where he is currently the leading scorer in the second Croatian league with 12 goals in 16 league games. Nestorovski has primarily played CF, and he told us he hopes his form will lead to a transfer to a bigger club in the not too distant future.
Inter Zaprešić is also the former club of Macedonian international Aleksandar Trajkovski. Nestorovski hopes to have the same fortune as Trajkovski who grew and developed his game at Inter Zaprešić before then transferring to the Belgian league.
In our interview with Ilija, we talked to him about his early beginnings in football, his experience in the Czech Republic, his best position on the field, what has allowed him to quickly find success with Inter Zaprešić and his plans in the winter transfer window.
Here is the question and answer session with Nestorovski:
MF: Tell us about your early footballing days in Prilep? What are your best memories about your time with Pobeda?
IN: My first steps in football were in my parent club "Pobeda" at the age of 7. The moments that I remember the most at Pobeda were joining the senior squad under then coach Nikolce Zdraveski, the debut goal against Milano, my appearances in the qualifications for the Champions League and being captain at the age of 18 which was a big honor and privilege.
MF: Your first international adventure was in the Czech Republic. How would you describe your time there with Slovácko and Viktoria Žižkov?
IN: When I came to Slovácko in the Czech Republic, I realized that there are clubs with more professionalism than in Macedonia. There were more football fields and quality which we didn't have in Macedonia. I enjoyed my time with Slovácko. I made around 50 total starts in all competitions at Slovácko. Playing for two teams in the top Czech division helped me gain more experience for the future.
MF: What would you say is your best position on the field?
IN: The best position for me is CF, but I can play all positions in attack, including behind the central forward as well.
MF: You are currently the leading scorer in the second Croatian league with Inter Zaprešić. What allowed you to quickly find success with your current club?
IN: After coming to Inter Zaprešić, I realized that the club is very professional. From the first day here, I worked hard and all of that has paid off in me becoming the top scorer in the league. For that I also have strong support from my teammates.
MF: Finally, what are your plans during the winter transfer window?
IN: I am in Inter Zaprešić at the moment. I'm training and will probably stay here until the summer where we have plans to enter the first Croatian division. There were some offers from other clubs, but they were immediately rejected by the management of Inter Zaprešić because they want me to stay until the summer so we can fulfill our goal of winning promotion to the First League.