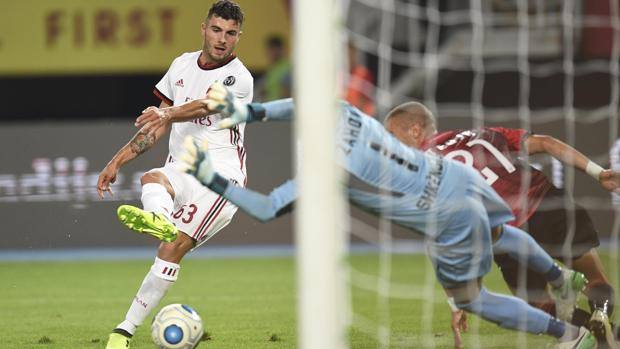 Shkendija once again lost to Milan and got eliminated from Europa League, but this time at least the result was a normal defeat.
After the 6:0 humiliation suffered in Milano last week, now Shkendija lost by a lone goal to Italian giant Milan. The visitors fielded a combined team in Skopje, having in mind the huge advanatage from the first leg.
Youngster Patrick Cutrone scored the only goal in the game early in the 13th minute. The early goal was promising another goals gallore gamem, but that did not happen. Shkendija even had few chances to score, but failed. Their players wanted to score agianst Milan so bad, but simply could not find the back of the net of reserve keeper Marco Storari.
For the second season in a row Shkendija gets eliminated in the play-offs after eliminating three teams. This time even right after the draw it was obvious that the matches agianst Milan would only be played for fun as the Rossoneri were huge, huge favourites.
https://www.youtube.com/watch?v=yNG0v-mIiC8
National Arena Philip II of Macedon in Skopje
Shkendija – Milan 0:1 (0:1); 0:7 agg.
Goals: 13′ Patrick Cutrone
Shkendija: 1. Zahov; 13. Čeliković, 6.
Cuculi, 21. Teqja, 4. Bejtulai, 77. Todorovski (79′ 16. Murati); 8. Totre (88′ 22. Fazlagikj), 5. Alimi; 10. Hasani (c), 7.
Ibraimi; 14. Radeski (73′ 90. Abdurahimi).
Milan: 30. Storari; 13. Romagnoli (46′ 20. Abate), 19.
Bonucci (c), 17. Zapata; 31. Antonelli, 45. Zanellato, 73. Locatelli (73′ 46. Gabbia), 4. Mauri, 2. Calabria; 9. André Silva, 63. Cutrone (58′ 8. Suso).
Referee: István Kovács (ROU)