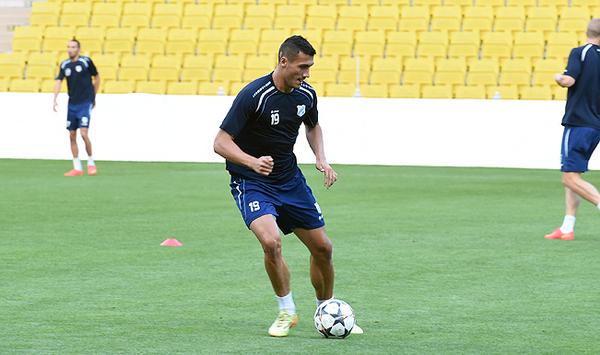 Several Croatian newspapers reported late on Thursday that Adis Jahovikj will be leaving Rijeka for Russian second division side Krylia Sovetov.
The 27-year-old striker Adis Jahovikj only joined Rijeka this summer as a free agent, but it looks like his stay will be very brief (if Croatian media reports are to be believed).  Both novilist.hr and hrt.hr reported on Thursday that Jahovikj will be sent on loan to Krylia Sovetov of the Russian second division for the 2014-15 season.  Jahovikj was supposedly deemed not good enough to wear the Rijeka uniform, leading to the decision to offload him days before the end of the summer transfer market.
Earlier this week, Rijeka signed a striker by the name of Josip Ivančić.  His signing pushed Jahovikj further down on the depth chart.  As a reminder, Rijeka already had Andrej Kramarić and Ivan Krstanović ahead of Adis in the attacking department.  Then, once Rijeka concluded that Jahovikj was not good enough, the club went after Ivančić who they signed on 26 August.  That made Jahovikj expendable so he was then transfer listed by Rijeka.  This season, Adis has seen little action in the important games for Rijeka in the Europa League qualifications, while the limited playing time that he did receive mostly came against minnows in the Croatian league.
On Thursday, Jahovikj was an unused substitute in Rijeka's 3:0 win over Sheriff in the play-off round of the Europa League qualifications.  He only traveled with the team to Moldova since Ivančić was still unavailable for that matchup (Josip had just signed on 26 August).  Rijeka defeated Sheriff 4:0 on aggregate over the two games to reach the group stages of the competition.
As for his rumored next team, Krylia Sovetov is currently competing in the Russian second division after being relegated from the top flight at the conclusion of the 2013-14 campaign (they finished in 14th place in the 16 team league).  However, Krylia Sovetov has the ambitions to win promotion right away, so they went after Jahovikj once he was transfer listed by Rijeka.  As for some connection, the current Krylia Sovetov manager is Belgian coach Frank Vercauteren.  He coached Aleksandar Trajkovski and Tome Pachovski at Mechelen last season when Vercauteren took over as interim manager during the second half of the season.  Both Trajkovski and Pachovski played well under him, so maybe he talked to those two guys before deciding to pursue another Macedonian international.
Based on the evidence, this transfer that was first reported in Croatian newspapers does appear to have legs.  We should know more in the coming days since the transfer market concludes at the end of this month.  If this deal does get done, then Macedonia's top two CF's, Adis Jahovikj and Jovan Kostovski, would both be playing in the second division (Kostovski is under contract with OH Leuven of the Belgian second division).