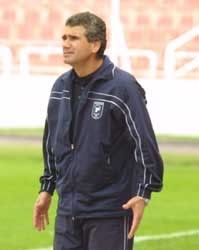 Although Gjore Jovanovski brought the biggest success to FK Milano from Kumanovo, the board of the club decided to cancel his contract and continue with new coach.
For the first time in the short history of the club, FK Milano from Kumanovo played in the Macedonian first league. Finishing the season on the 2nd position and qualifying for the UEFA Cup next season and also playing in the Macedonian cup final is a fantastic success for a club that last year played in the second league. But Milano's board wasn't satisfied with this and as the president of the club Bajrush Veliju said, they were disappointed with not winning at least one title. That's why they have decided to cancel Jovanovski's contract and search for new coach who will attempt to take the club even higher.
Gjore Jovanovski leaded Milano from October, 2007. Under his lead, FK Milano Kumanovo won the 2nd position and also played in the Macedonian cup final. On 30 matches under Jovanovski's lead, Milano won on 21, had 1 draw and 8 defeats. In his career, Gjore Jovanovski coached the Macedonian clubs Sloga Jugomagnat, Vardar and Rabotnicki Kometal, Turkish club Samsunspor and also the Macedonian national team.