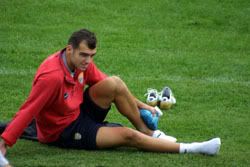 Srecko Katanec, the coach of the Macedonian national football team, announced that Lazio's striker Goran Pandev definitely will miss the EURO 2008 Group E qualification matches against Croatia and Israel.
Current Macedonian best football player will be out of the pitches in the next 2-3 weeks because of an injury on his left leg. This is big blow for the Macedonian national team, but Katanec will not call other players as his substitution.
Previously Igor Jancevski canceled his participation and the midfielder Slavco Georgievski from the Bulgarian club Slavia from Sofia was called as his substitution.