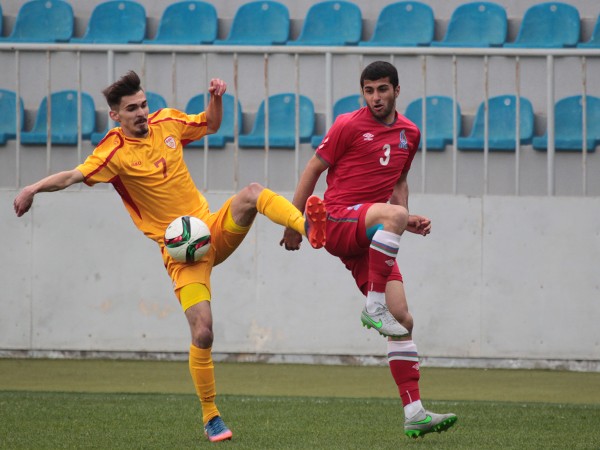 As announced before our U18 national team (born 1999 and younger) visited Azerbaijan for two friendlies. Our boys came home with a win and a loss.
Last week our U18 national team played two friendlies against Azerbaijan in Baku as a part of preparations for the U19 qualifications this autumn (the generation 1999 and younger is called U18 until the end of the U19 European championship which is for players born in 1998 and later). We won the first game with a goal scored by Bojan Kolevski at 75th minute. In that situation Vardar's forward Bojan headed home a cross by left-back Mihail Manevski. This was our squad at this game:
ÂÂ 
Macedonia: Hristijan Stefkovski -C-, Todor Todoroski, Mihail Manevski (85′ Hristijan Delevski), Bane Manevski (46′ Filip Stojchevski), Agron Rufati, Antonio Mitrev, Marco Ferukoski, Bojan Miovski (66′ Bojan Kolevski), Nikola Bogdanovski, Enis Fazlagikj, Kristijan Trapanovski (66′ Kiril Ristovski).
Kolevski's goal (at 1:42):
At the second game we were at least an equal opponent, but we missed our chances and at the end we lost the game 0:1. The scorer for Azerbaijan was Dogukan Oksuz.
Recap of the game:
https://youtube.com/watch?v=tVyZVpNJZb<
/p>
Just as a reminder, coach Vujadin Stanojkovikj's team was without important players like Dimitar Mitrovski, Elif Elmas, Jani Atanasov and Darko Churlinov, thus especially the offense was significantly weakened.