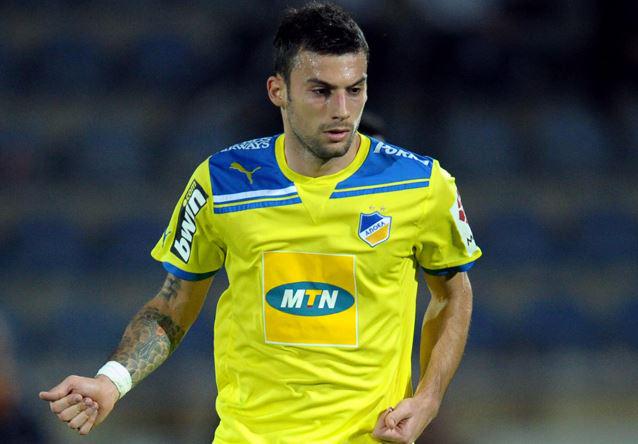 Ivan Trichkovski is expected to be the first summer signing for APOEL, allowing him to return to the club where he experienced the most success.
The transfer of Ivan Trichkovski to APOEL appears imminent, according to numerous newspapers in Cyprus. Even the Cyprus Broadcasting Corporation announced that Trichkovski will sign a 2-year-deal with APOEL. The announcement should come any day, based on what is being reported in Cyprus.
Trichkovski, 28, has seen his career tumble down after his departure from APOEL in the summer of 2012. He left at that time for Club Brugge in Belgium, but his stint there was an absolute disaster. Ivan rebounded the following season when he was loaned to Waasland-Beveren, where he played regularly, but this past season has been a nightmare once again. Trichkovski signed a 1-year-deal with Al-Nasr in the United Arab Emirates, reuniting with his former APOEL manager Ivan Jovanovic, but he only lasted half a season. Prior to the second half of the campaign, Trichkovski was jettisoned out from the team as Al-Nasr signed Pablo Hernández to take his place. As a reminder, only four foreigners are allowed per team in the United Arab Emirates.
So, that decision has seen Trichkovski remain on the sidelines for the past several months. He has not played in an actual game since this past January.
Ivan becomes a free agent this summer, and based on reports out of Cyprus, it looks like he will be headed back to APOEL. He was a fan favorite at the club, and his return will be welcome news to the supporters. Ivan helped APOEL reach the quarter-finals of the Champions League back in the 2011-12 season. He is making a smart decision, if these reports are indeed true, to hopefully get his career back on track at the club where he feels the most comfortable.
Trichkovski did not suit up for the Macedonian national team while he was under contract in the United Arab Emirates. He noted scheduling conflicts and the drastic climate differences as his main two worries in reaching that decision. Moving to Cyprus would certainly make him a candidate to rejoin the national team, if he still has interest in representing Macedonia.