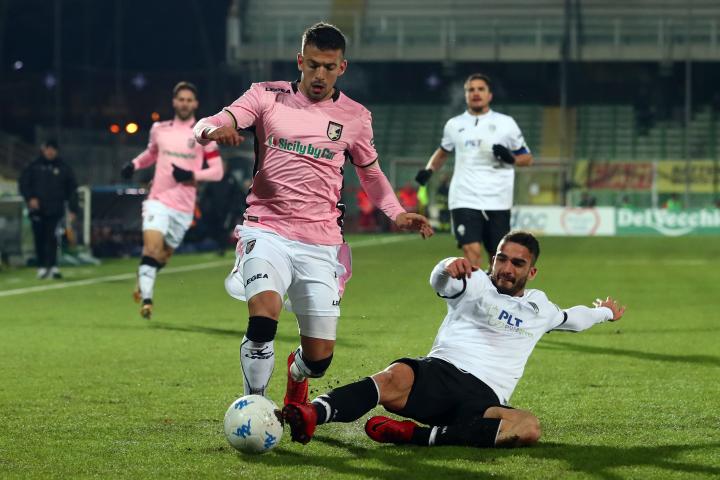 Third goal for Aleksandar Trajkovski in Serie B this season who scored on Thursday night in the road game against Cesena.
Palermo is without captain and best scorer Ilija Nestorovski, so his teammate Aleksandar Trajkovski is getting more and more playing time. The absence of the popular NestoGoal is so far handled well by the Rosaneri, especially by Aleks who scored his second goal since he started playing regularly.
Trajkovski has played the whole 90 minutes in the last four games, including the last. When Nestorovski got injured while warming up before the game against Venezia, it was Trajkovski who substituted him and since than has been regular. He scored one goal in the 3:0 smashing of promotion rivals Bari, while Thursday's goal was his third this season as he had scored one in the first round against Spezia.
The 9th minute was played at the Dino Manuzzi stadium when Haitam Aleesami found Trajkovski in the box, the Macedonian reacted on first touch scoring in the home net. Palermo failed to keep the lead and the the match ended in a 1:1 draw.
Trajkovski's goal:
https://www.youtube.com/watch?v=Jm1CW754Do0
If the video doesn't work, click here, the goal is at 0:28.
"This goal is very important for me because it gave me confidence. I thank the coach for giving me a chance and fielding me in the starting 11 in the last few matches. I am eager to play and I want to show more in the next games." – said Trajkovski after the game.
"We kept the positive form on the road and that is important for us. We know that we are strong, but we have to show that on the field against Salernitana at home, in our last game this year. We hope that we will end this year with a win, but we also hope that the fans will come to support us because we need them." – the Macedonian finished his statement.
With this point the Rosaneri stayed on top, but Frosinone came close on just two points.