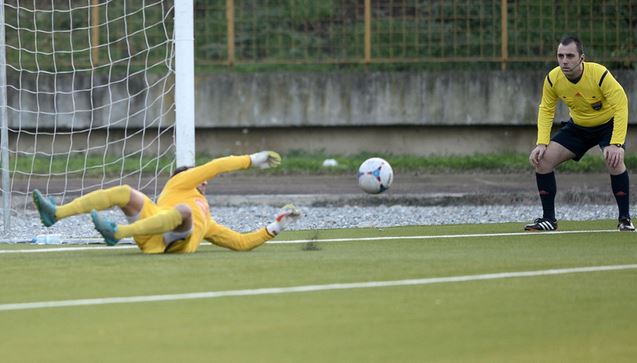 Vardar held on late to salvage a point against Rabotnichki, Sileks handed Shkendija its second loss of the season, while Shkupi exploded for five goals versus Mladost.
On a neutral venue in Veles, Rabotnichki hosted Vardar due to the bad pitch at the "National Arena Philip II of Macedonia." The match started pretty quietly as both teams were feeling each other out in the opening stages. In the 9th minute, a goal came on the first chance of the game. Petar Petkovski of Vardar received a clever pass to be put through on goal and the 18-year-old winger made no mistake. Petkovski displayed calm finishing to send his shot past Rabotnichki keeper Damjan Shishkovski, a teammate of his on the U21 national team. On the other end, Rabotnichki had several good looks in the 1st half, but Dushko Trajchevski, Marjan Altiparmakovski and Suad Sahiti could not capitalize. Trajchevski failed to direct his header on target, while Altiparmakovski and Sahiti had efforts saved by Tome Pachovski.
The 2nd half saw Rabotnichki control most of the possession, but they were left frustrated until the latter stages of the match. Milan Ilievski came close from a free kick that went just wide of the right goal post. Vardar was unable to do anything offensively, and Rabotnichki finally caught a break in the 78th minute. Vardar left-back Blagoja Ljamchevski made a careless foul inside the area, leading referee Dejan Jakimovski to point to the spot. Stephan Vujcic converted the subsequent penalty by sending Pachovski the wrong way.
After the equalizer, Vardar showed more attacking intent by going forward, but that also made them vulnerable on defense. In the end, Vardar was rather lucky to get out of Veles with one point after Rabotnichki missed two big opportunities in the 90th minute. One of those was a penalty after Tome Pachovski fouled Kire Markoski. This time, however, Pachovski would deny Vujcic, who once again took the spot kick for Rabotnichki. Vujcic went towards the same side as his first penalty, but Pachovski was ready and made a diving save, also allowing no rebound opportunity. A minute later, in open play, Markoski had a sitter from close range, but somehow his shot, which was mishit, ended up being blocked for a huge miss.
Highlights of the game:
Rabotnichki: Shishkovski, Siljanovski, Ilievski, Ristevski, Cikarski, Trajchevski (53′ Markoski), Petrovic (75′ Jovanoski), Vujcic, Sahiti, Altiparmakovski (90′ Najdovski), Ilijoski.
Vardar: Pachovski, Brdarovski, Grncharov, Mijuskovic, Ljamchevski, Gligorov, Dashyan, Petkovski (55′ Nikolov), Juan Felipe (83′ Spirovski), Blazhevski (66′ Stojkov), Ivanovski.
Sileks finally managed to beat one of the so called "big 3" in Macedonia. After losing each match against Vardar, Shkendija and Rabotnichki this season, Sileks put in a great shift on Sunday to change that negative record. The score was 3:1 in favor of Sileks. All four goals came in the 2nd half. In the 48th minute, Blagoj Gucev was fouled inside the area by Carlinho Rech, leading to a penalty. Nikolcho Gorgiev easily sent his spot kick past Marko Jovanovski.
Shkendija then went down to 10 men in the 55th minute. Marjan Radeski was shown his second yellow card of the game, the reason being diving. Midway through the 2nd half, meanwhile, it was 2:0 for Sileks. Igor Nedeljkovic did a nice job of controling a corner kick before slotting a perfectly placed shot to the upper right corner. Besart Ibraimi reduced the deficit to 2:1 in the 73rd minute when his effort took a slight deflection before finding the back of the net. Four minutes later, Nedeljkovic got his brace to restore the two goal lead for Sileks. He outmaneuvered right-back Egzon Bejtulai in notching his goal. Sileks would also finish the game with 10 men when Momchilo Rudan received a red card for elbowing Enur Totre.
Video of the goals:
Sileks: Mitrovic, Timovski, Mickov (46′ Filipovski), Rudan, Ivanov, Dzonov, Gligorov, Gucev, Duranski (71′ Acevski), Gorgiev (87′ Todorov), Nedeljkovic.
Shkendija: Jovanovski, Bejtulai, Rech, Polozhani, Cuculi, Useini (66′ Totre), Alimi, Todorovski (46′ Kirovski), Stenio Junior (78′ Vrucina), Radeski, Ibraimi.
Shkupi, tied for the fewest goals scored entering this round, found its remedy in the name of struggling Mladost. Shkupi netted five goals to go from 14 to 19 on the season. Mladost, on the other hand, continues to be in a freefall. If things don't change, then Mladost is certain to be facing relegation.
Shkupi: Zendeli, Murati, Asani, Adili, Lazarevski, Bajrami, Osmani, Janevski, Maksuti, Iseni, Demiri.
Mladost: Kochoski, Elmazovski, Simjanovski, Veljanoski, Gjoreski, Dalcheski, Nikolovski, Dimoski, Cvetanoski, Konjarski, Kalanoski.
Turnovo got an important win over Bregalnica to get out of the relegation group, bottom four, for the time being. Gjorgji Tanushev and Aleksandar Milushev notched one early and late goal to put away Bregalnica. Turnovo has been in good form as of late. They beat Vardar not too long ago, then reached the semi-finals of the Macedonian Cup, before beating Bregalnica on this day.
Turnovo: Stoilkov, Tashev, Iliev (82′ Najdenov), Ivanov (74′ Mitev), Milushev, Tafe, Mavrov, Tanushev, Stoilov, Imeri (65′ Bozhinov), Kochoski.
Bregalnica: Davitkov, Mitrev, Stojanov, Tonev, Blazheski, Zdravkov (68′ Iliev), Ristovski, Nikovski, Kocev, Velkovski (65′ Kostov), Mishev (46′ Nacev).
The remaining game between Renova and Metalurg was postponed due to heavy fog. The match took place on Monday in the city of Kichevo with Renova claiming the points thanks to scoring a goal in each half. Because of this postponement, the last round before the winter break was also moved. Instead on Wednesday, all of the five fixtures will now take place the next day, on Thursday.
Renova: Efremov, Musliu, Mishkovski, Mecinovic, Fetai (85′ J. Selmani), Mojsov, Gafuri, Shabani, Nuhi, Ramadani (76′ Jusufi), R. Selmani (63′ Skenderi).
Metalurg: Ilik, Mitrev, Leskaroski, Krivanjeva, Karanfilovski, J. Naumoski, Shoposki (65′ Stojchevski), B. Naumoski, Jakimoski (44′ Dodev), Kanzurov (59′ Krstev), Stojanovski.
Round 17 results:
Rabotnichki – Vardar 1:1
79′ (pen) Stephan Vujcic – 9′ Petar Petkovski
Sileks – Shkendija 3:1
48′ (pen) Nikolcho Gorgiev, 66′, 77′ Igor Nedeljkovic – 73′ Besart Ibraimi
Shkupi – Mladost 5:0
29′ Muharem Bajrami, 31′ (og) Aleksandar Dalcheski, 55′, 66′ Florent Osmani, 85′ Husein Demiri
Turnovo – Bregalnica 2:0
9′ Gjorgji Tanushev, 90′ (pen) Aleksandar Milushev
Renova – Metalurg 2:0
8′ Emran Ramadani, 51′ Argjent Gafuri