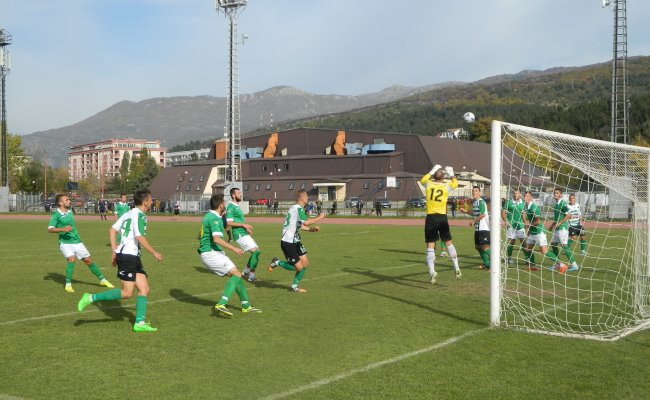 Vardar extended its lead at the top of the table to three points after Shkendija slipped up against Turnovo, Rabotnichki and Sileks settled for a draw, while Metalurg recorded a much needed win.
At the "National Arena Philip II of Macedonia," Vardar needed two late goals to overcome Bregalnica. It was the visitors from Shtip who opened the scoring in the 6th minute, but Vardar responded with three unanswered goals. Filip Ivanovski scored the equalizer in the 27th minute after he was set up nicely by Cesar Romero, while Hovhannes Hambardzumyan and Dejan Blazhevski netted the two late goals. The goal by Blazhevski in the 86th minute came on a converted penalty kick. Overall, Bregalnica put up a resilient fight, but they ran out of gas as the match got deeper.
Highlights of the game:
Vardar: Pachovski, Hambardzumyan, Mijušković, Grncharov, Popov, Gligorov, Nikolov (61′ Stojkov), Blazhevski (87′ Spirovski), Juan Felipe, Romero (75′ Petkovski), Ivanovski.
Bregalnica: Kolev, Mitrev, Stojanov, Tonev, Blazheski, Hristov, Zdravkov, Velkovski, Kocev, Kostov (59′ Ristovski), Nacev (73′ Iliev).
Shkendija failed to keep up with Vardar by surprisingly dropping two points to Turnovo. Things started positively for them after Besart Ibraimi converted a spot kick in the 13th minute. That came after a hand ball inside the area following a free kick. In the 24th minute, Turnovo captain Sashko Pandev leveled the score at 1:1. He outmaneuvered Artim Polozhani and Sedat Berisha, the CB duo of Shkendija, before firing a shot past Marko Jovanovski. Pandev then had to leave the match ten minutes later due to an injury. Shkendija retook the lead in the 35th minute when Stênio Júnior scored a nice goal with a lot of traffic around him. However, Turnovo responded once again with Bojan Najdenov making it 2:2 in the 50th minute. Midway through the 2nd half, Turnovo was reduced to 10 men after Gjorgji Stoilov received a red card (two yellow cards), but Shkendija could not capitalize.
Highlights of the game:
Shkendija: Jovanovski, Todorovski, Polozhani, Berisha, Cuculi, Demiri, Alimi, Totre (64′ Vručina), Radeski (64′ Kirovski), Stênio Júnior, Ibraimi.
Turnovo: Stoilkov, Tashev, Bozhinov (90'+2 Krstovski), Iliev, Milushev, Najdenov, Tafe, Mavrov, Stoilov, Kochoski (69′ Ivanov), Pandev (33′ Tanushev).
In Kratovo, the important match between Sileks and Rabotnichki finished how it started, 0:0. Therefore, Rabotnichki maintained its one point edge over Sileks for third place on the standings. The match saw few chances as both teams were rather safe in their approach.
Some highlights of the game:
Sileks: Mitrović, Timovski, Mickov (70′ Acevski), S. Rudan, Ivanov, Dzonov (70′ Todorov), Gucev, Gligorov, Duranski, Gorgiev (82′ Marikj), Nedeljković.
Rabotnichki: Shishkovski, Ilievski, Ristevski, Cikarski, Petrovikj (86′ Ristovski), Vujčić, Trajchevski, Jovanoski, S. Sahiti (59′ Mitrov), Altiparmakovski (80′ E. Sahiti), Ilijoski.
The matchup between Shkupi and Renova, tied for 16 points entering this round, saw the former side win 3:0. Florent Osmani led the way for Shkupi with a brace, while Ardian Nuhiu scored the third and final goal. Now at 19 points, Shkupi is only one point behind Rabotnichki for third place.
Highlights of the game:
Shkupi: Zendeli, Murati, B. Asani, Lazarevski, E. Asani, Bajrami, Janevski (76′ Maliki), Osmani, Iseni (65′ Adem), Arif, Nuhiu (85′ Demiri).
Renova: Efremov, Memedi (63′ Ramadani), Musliu, Mecinovikj (80′ Skenderi), Mishkovski, Selmani, Gafuri (70′ Gafuri), Fetai, Shabani, Nuhiu, Emini.
Metalurg exploded for five goals to pile more misery on struggling side Mladost. Metalurg had actually scored a total of five goals in the opening 13 rounds, so they matched that number in just this one game. Five different scorers were on target for Metalurg, so they got great contributions from a number of players. Mladost lost its fifth consecutive game in league play.
Video of the goals:
Mladost: Petrovski, N. Veljanoski (46′ Velevski), Elmazovski (73′ Merko), Simjanovski, T. Veljanoski, Dalcheski, Nikolovski (68′ Azizi), Markovski, Konjarski, Cvetanoski, Kalanoski.
Metalurg: Taleski, Ristovski, Leskaroski (72′ Krivanjeva), Ilieski, Gjorgievski, Tanturovski (86′ Jakimoski), J. Naumoski, Jevtoski, Danoski, Stojanovski (54′ Angelov), B. Naumoski.
Round 14 results:
Vardar – Bregalnica 3:1 (1:1)
27′ Filip Ivanovski, 79′ Hovhannes Hambardzumyan, 86′ (pen) Dejan Blazhevski – 6′ Angel Nacev
Shkendija – Turnovo 2:2 (2:1)
13′ (pen) Besart Ibraimi, 35′ Stênio Júnior – 24′ Sashko Pandev, 50′ Bojan Najdenov
Sileks – Rabotnichki 0:0
Shkupi – Renova 3:0 (1:0)
40′, 60′ Florent Osmani, 82′ Ardian Nuhiu
Mladost – Metalurg 1:5 (1:3)
38′ Antonio Kalanoski – 5′ Blagoja Naumoski, 8′ Dejan Tanturovski, 40′ Zoran Danoski, 46′ Vlatko Stojanovski, 70′ Viktor Angelov