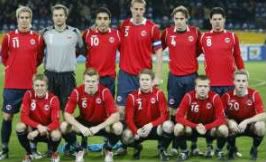 Norwegian coach Egil "Drillo" Olsen announced the squad for the upcoming match against Macedonia from the WC2010 qualifying Group 9. Macedonia hosts Norway on June 6th, 2009 in Skopje.
Led by John Carew, John Arne Riise, Morten Gamst Pedersen and Bred Hangeland, Norway will still have tough task to fight for their first win under the hot Macedonian sun on June 6th at 17:45.
The Norwegian national team coach Egil Olsen announced the following squad:
Goalkeepers:
Rune Almenning Jarstein (Rosenborg), Håkon Opdal (Brann), Jon Knudsen (Stabæk).
Defenders:
Trond Erik Bertelsen (Viking), Morten Fevang (Odd Glenland), Jon Inge Høiland (Stabæk), Tore Reginiussen (Tromsø), John Arne Riise (Roma, Italy), Brede Hangeland (Fulham, England), Kjetil Wæhler (Aalborg, Denmark).
Midfielders:
Simen Brenne (Odd Grenland), Christian Grindheim (Heerenveen, Netherlands), Henning Hauger (Stabæk), Erik Huseklepp (Brann), Morten Gamst Pedersen (Blackburn, England), Bjørn Helge Riise (Lillestrøm), Per Ciljan Skjelbred (Rosenborg), Fredrik Winsnes (Strømsgodset).
Strikers:
John Carew (Aston Villa, England), Daniel Braaten (Toulouse, France), Erik Huseklepp (Brann), Steffen Iversen (Rosenborg).
Egil Olsen is aware that the biggest threat for the Norwegian goal will be Goran Pandev, so he gave his thoughts about the best Macedonian football player:
 – "Goran Pandev is a very good player. But obvisously, he is a primadonna, a player it is easy not to like. He has qualities (quick, dangerous in front of goal) and when he wants to, he is good without having the ball (defence). In defence he does nothing. But he is a player to look out for. You don't play regulary for Lazio without being good", said Olsen.