For the second time in his career, goalkeeper Kristijan Naumovski has been let go by Dinamo București.
The second stint for Kristijan Naumovski with Dinamo București only lasted several months before his departure on Thursday. Naumovski bid farewell to the club on his Facebook account, writing in Romanian "goodbye Dinamo and I will be a dog until death." The nickname of Dinamo București is the red dogs. It is important to note that Naumovski was popular with the club's fans. That is why he was brought back for a second stint since the fans lobbied management to bring back Kristijan after he was released by Levski, his former team before Dinamo.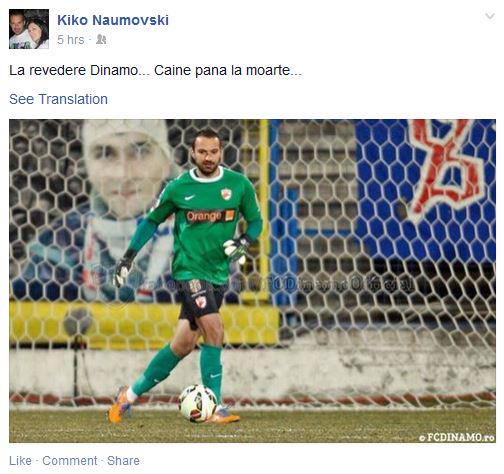 This decision to move on from Kiko was not surprising since the people that brought Naumovski back to Romania were dismissed. Dinamo București had high ambitions during the 2nd half of the season, signing ten players this past winter, but they were a terrible disappointment. Thus, the sporting director and manager were both dismissed.
Naumovski opened the 2nd half of the season as the starting keeper, but he quickly lost his job after subpar performances. Then, Traian Marc took his place. Over the last couple of weeks, however, Marc and Naumovski have been alternating as starters.
Naumovski officially left on Thursday, and Romanian newspaper also reported that Marc will be gone as well. Neither was able to convince the new club management. Dinamo București will be in the market for a new starting keeper this summer.