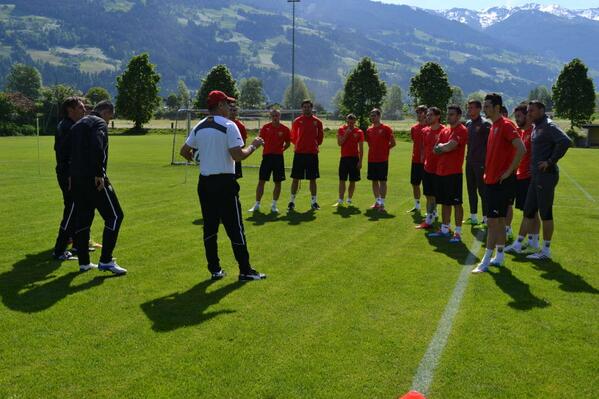 The Macedonian national team has started their week long training camp in Austria, before the upcoming friendly matches against Cameroon and Qatar.
The national team arrived in Austria yesterday and held their first training session today. Until the first friendly, against Cameroon on May 26, 8 trainings are scheduled for the team. Tomorrow, the team expects the arrival of David Babunski and the day after Goran Popov should arrive. It seems likely that Daniel Mojsov will miss the first match as he has club duties on Sunday when his club Brann faces Valerenga.
'I want to thank the hosts in the name of the Football Federation of Macedonia for the excellent reception and the great conditions we have here. That is very important both for the players and for the staff. We have a young, perspective team which wishes to progress. For a coach, that is most important in a team and although I am here for a relatively short time, I think I have seen that in the players. I really hope the players will remain healthy and injured as our fond of players is not big at all. During these training camp we are not going to be focused on physical preparations, instead we will be working on our tactics and play. We are trying to create an atmosphere of a football family, players are most important for us. Everyone will have the opportunity to show his quality. I am really happy we have these 10 days together, we will see how will the preparations go and then we will have a clearer image. The beginning is positive.' said Boshko Gjurovski from Austria.
Tome Pachovski, one of the most experienced players in the team was quoted saying: 'This is surely a good way to prepare before the matches against Cameroon and Qatar (30th of May, in Italy). We have enough time and great conditions, we can see what Gjurovski is asking from us and i think we will be good on both matches. There are several new, young players and in the team and i think we needed such boost. The atmosphere is positive and and I hope everyone will understand his task and perform it on top level so the whole team can progress'.