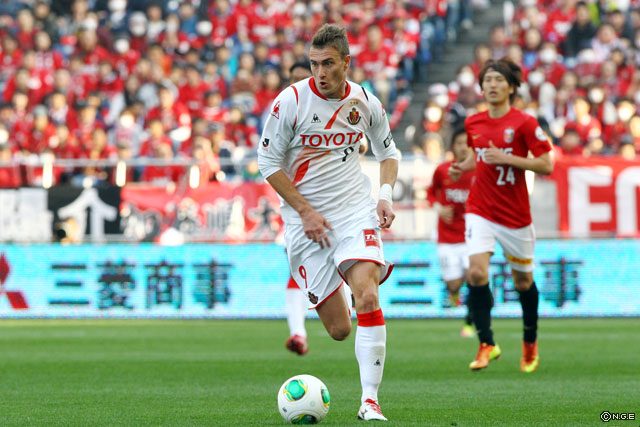 Nikola Jakimovski, currently under contract with Nagoya and a former member of the Macedonian U21 national team, is the latest player to feature in our interview series on the site.
Nikola Jakimovski, who turns 24 years old late next month, has played in four different countries during his early career.  He started in Macedonia, then moved to Hungary and later Serbia before his current adventure in Japan with Nagoya.
Jakimovski was brought to Nagoya before the 2013 season by manager Dragan Stojkovic and his top assistant Boshko Gjurovski.  Stojkovic was familiar with Serbian football and Jakimovski, who then played for Javor, caught the eye of Nagoya, leading to his transfer.
After Boshko Gjurovski was named the Macedonian manager, we thought Jakimovski would be a good interview to tell us more about the coaching style of Gjurovski and also to learn more about his career.  In our interview, we talked about Gjurovski, his contract status with Nagoya and his plans for the winter transfer window, among other things.
Here is a transcript of our interview with Nikola Jakimovski:
MF: First of all, Nikola, tell us about your experience in Japan this past year?
NJ: The experience I gained in Japan was amazing.  It is a country of work, discipline, respect.  To me it is the safest country in the world.  The Japanese are very hospitable people.  Japan was an amazing experience.
MF: Are you still under contract with Nagoya?  If not, what are your plans during the winter transfer window?  (Also, if you like, you can answer in this question whether the report about Sevilla being interested in you is true?)
NJ: I feel good in Japan.  I am used to the local way of life.  I have a contract for two more years.  It is true that there is interest from several European clubs, among which is Sevilla, but it is up to the club because I'm under contract.  I only think of just Nagoya.  Also, I agree that earlier I said I did not want to go back to Europe, but if I were to reconsider it would not be in any country or any club.
MF: How was your relationship with Nagoya assistant coach Boshko Gjurovski, and do you expect to receive a call up by him to the Macedonian national team now that he is the manager?
NJ: My relationship with the new coach of Macedonia is very good.  I very much appreciate and respect Boshko Gjurovski as a man and as a coach.  I am satisfied that it is a quality coach who can certainly help a lot and contribute to Macedonian football.  Even before becoming the coach of Macedonia, a lot of people and journalists from Macedonia called me to question me about him.  I said objectively and honestly that first he is a great man and a very good coach.
MF: What do you see as your best position on the field?
NJ: I have always played on the left wing.  Also, I can play all over midfield and as a right winger.  In Japan, for most of the games under the coach Dragan Stojkovic I played as a playmaker.
MF: Nikola, so far in your career, you have played in Macedonia, Hungary, Serbia and Japan.  How would you rank the leagues in terms of their quality and conditions?
NJ: Each league has its own quality.  In every league I have played, I have gained experience.  I was lucky that I have always played in well organized clubs, but definitely the Japanese league is the most exciting in the world.  As a example, this season it took until the last round to know who will be the champion.  Everyone expected Marinos to be the champion 3-4 rounds before the end of the championship, but Hiroshima had other thoughts.  So it is in Japanese football.  It is so hard and it is the most exhilarating league in the world.
MF: What would you like to tell the Macedonian people?
NJ: I wish everyone a Happy New Year and happy holidays.  I want every day for the people to smile, be happy and realize their dreams.  We can all achieve whatever we put our mind to.  You just have to try and believe it. Never give up! 2014.