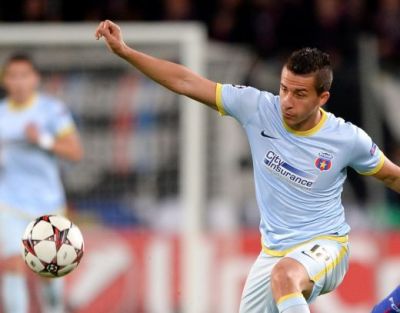 Daniel Georgievski made another defensive mistake that proved costly in Steaua's 0:1 loss against Chelsea in England.
When it rains, it pours.  That's what Daniel Georgievski seems to be going through for Steaua given his highly visible miscues over the past couple of months. 
Chelsea proved to be horror opposition for Daniel Georgievski.  In the first meeting between Chelsea and Steaua in Romania on 1 October, Georgievski scored an own goal and struggled mightily dealing with winger André Schürrle in a resounding 0:4 defeat.  After that game, things started to sour for Georgievski as he began to slowly lose the trust of the Steaua owner, coaches and fans.  That match also seemed to affect Daniel's confidence level as he began pressing and trying to be too perfect.  In turn, though, that led to an increase in the number of errors being made.
In today's 6th and final matchday of Group E in the Champions League, Steaua traveled to England for their second meeting with Chelsea.  Georgievski, who had been left out of the Steaua squad entirely in the previous several league games, was handed a start at right-back.  Only 10 minutes had elapsed when Georgievski was involved in another miscue.  Following a corner by Chelsea, Daniel had a chance to clear the ball, but he mishit the clearance and allowed his marker Demba Ba to score an easy goal from close range.  It was originally ruled an own goal by Georgievski, but the ruling was later reversed as Ba's knee seemed to have the final touch before the ball went into the Steaua goal.
Video of the goal by Chelsea:
https://youtube.com/watch?v=3mDjBQDFZnk
Miscues happen to most defenders at some point in one's career, but mistakes in big stake matches, such as in the Champions League, are magnified even further.
Georgievski played all 90 minutes in the 0:1 defeat to close the Champions League campaign for Steaua.  The Romanian club finished in last place and was eliminated from the two prestigious UEFA competitions (third placed teams in Champions League Round of 32 continue to Europa League).
Steaua will now focus its full attention on the league season in Romania.  They have three more games before the winter break and are involved in a tight race at the top of the table with teams such as Astra and Petrolul.  It's unclear if Georgievski will partake in any of those matches.  Daniel has a contract until the summer of 2014, but he may be given the green light to leave come the winter transfer window.