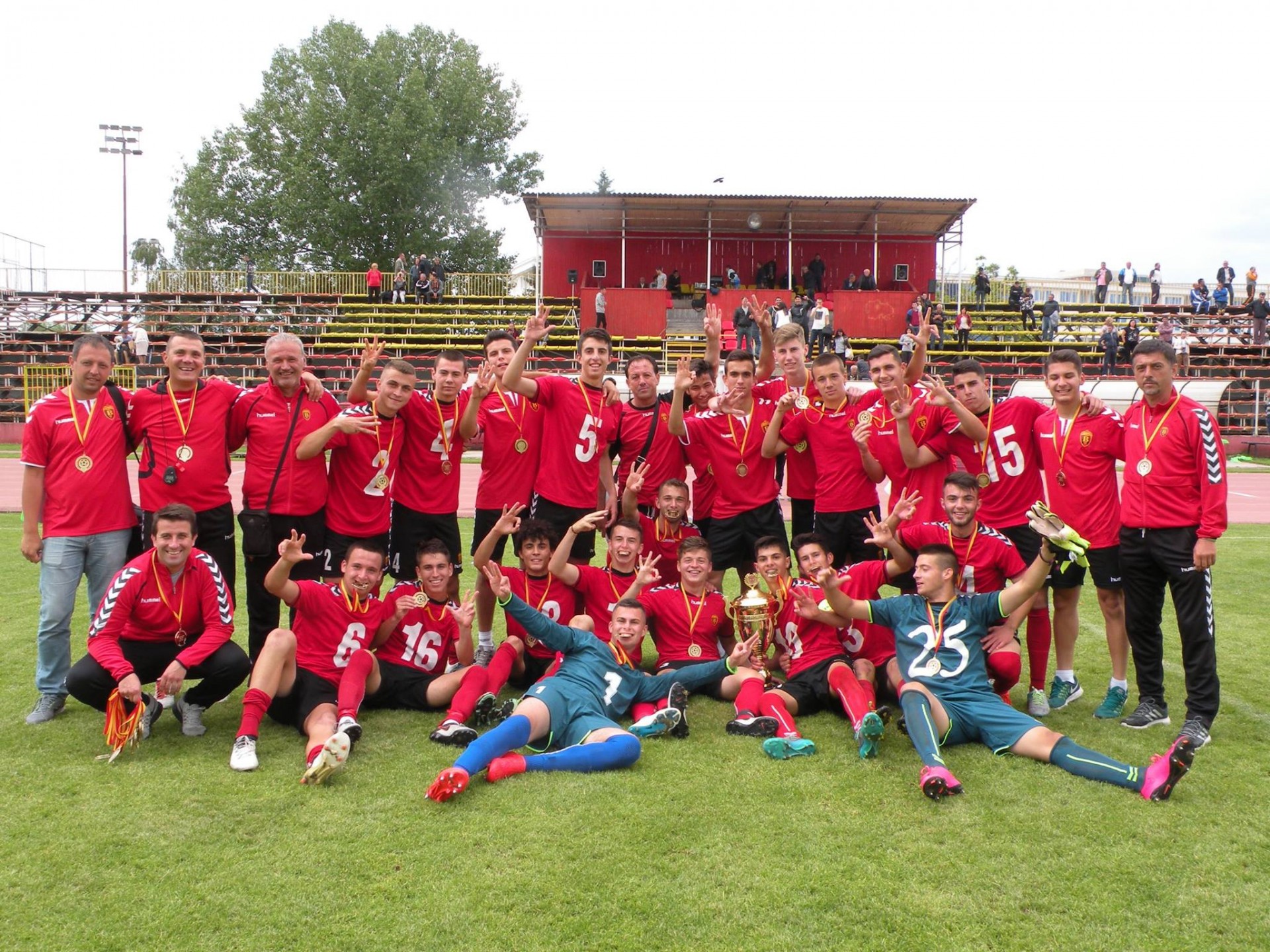 The youth teams of Vardar and Metalurg are winners of the cup finals in the U17 and U16 categories.
Third consecutive title in the U17 Macedonian Cup for Vardar. With a come from behind victory they prevented Rabotnichki to win a treble after the Reds celebrated in the U19 and U18 cup finals.
It was Rabotnichki who took the lead with a goal scored by Tasev early in the 3rd minute. Vardar could not find the equalized up until the 77th minute when Gjorgjieski converted a penalty kick as previously Aliev brought down Antovski in the box. The game winning goal came in the first minute of the injury time and the hero was Berisha who scored on a header.
Atina Bojadji stadium in Ohrid
Vardar U17 – Rabotnichki U17 2:1 (0:1)
Goals: 77′ (pen) Aleksandar Gjorgjieski, 80'+1 Jakup Berisha – 3′ Marko Tasev
Vardar: 25. Bojan Timevski; 2. Jovica Radevski, 3. Filip Antovski, 4. Viktor Peshevski (56′ 15. Stefan Naumcheski), 5. Aleksandar Gjorgjieski, 6. Hristijan Dimov (67′ 14. Anel Kalchinoski), 20. Fitor Redjepi (46′ 16. Filip Stojanoski), 7. Sait Bitikji (46′ Krenar Darlishta), 8. Ali Adem, 10. Jakup Berisha (C), 19. Bojan Kolevski. Bench: 1. Metodija Velkovski; 13. Gorjan Karkalashev – Trajkovski, 18. Marko Stopjcheski.
Rabotnichki: 1. Berk Hodjin; 2. Borjan Panovski, 3. Jezdimir Nedeljkovikj, 4. Burim Aliev, 5. Stefan Simonovski, 6. Rinor Ajdini, 7. Kristian Ristovski, 8. Armin Sejfikj, 9. Marko Tasev (62′ 18. Emin Bahtijar), 10. Stefan Koleski (C), 11. Nikola Dzurdzu. Bench: 12. Blazho Kovachevski, 13. Stefan Miljkovikj, 14. Niki Petreski, 15. Mario Tasev, 16. Stefan Bogdanovski, 17. Angel Panovski.
Yellow cards: Berisham, Darlishta (V), Tasev, Nedeljkovikj, Sejfikj (R)
Red cards: /
Referee: Nderim Tefiku (Kumanovo)
Assistants: Mervin Topojani (Skopje) & Aleksandar Gjurkovski (Kumanovo)
Fourth official: Kristijan Gjurovski (Skopje)
On the road to the final Vardar eliminated Metalurg with 6:5 on penalties after the game ended 1:1, then Shkendija also on penalties (5:3) after both matches ended 1:1, and was better than Pobeda in the semis celebrating twice, 3:0 and 2:1.
The U16 final game featured the teams of Metalurg and Shkendija. The team from Skopje wsa superior than its rivals from Tetovo and won the trophy with a 3:0 win.
To reach the final the players of Metalurg first smashed Akademija Postolov with 6:0, than eliminated Pobeda with a 6:0 win and a 2:2 draw, while in the semis they were better than Shkupi winning both ties, 3:2 and 1:0.
Atina Bojadji stadium in Ohrid
Metalurg U16 – Shkendija U16 3:0 (1:0)
Goals: 18′ Djemal Ibishi, 51′ Nusret Kurti, 69′ Aleksandar Popovski
Metalurg: 25. Milan Dimitrievski (49′ 22. Filip Milevski); 3. Nebush Nuhi (80'+2 23. Ahmet Redjepi), 4. Fonche Murdjeski, 5. Stefan Galaboski, 13. Andrej Joshevski (69′ 16. Damjan Nikolovski), 17. Djemal Ibishi (C), 8. Djavit Sabri, 21. Berat Zendeli (48′ 20. Senad Islami), 9. Nusret Kurti (72′ 15. Meriton Idrizi), 10. Gezim Bakievski (79′ 18. Oktaj Demiri), 11. Aleksandar Popovski (80'+2 24. Besnik Murtezani).
Shkendija: 1. Driton Ramadani; 3. Chlirim Imeri, 4. Ardit Demiri, 5. Zijad Jusufi (70′ 2. Agon Imeri), 24. Abdulvahit Ajdini (79′ 16. Albin Fetai), 6. Neshat Murati (70′ 9. Fljamur Memishi), 20. Almir Redjepi, 8. Mirlind Dauti, 10. Ramin Alii (C), 19. Kushtrim Tairi, 11. Festim Ebibi (45′ 15. Fiton Ademi). Bench: 12. Jeton Mehdiji; 13. Il Limani, 14. Erjon Nuredini.
Yellow cards: Zendeli, Popovski (M), Murati, Jusufi, Redjepi (S)
Red cards: /
Referee: Vlatko Ilioski (Prilep)
Assistants: Dragan Trpchevski (Kavadarci) & Nikolche Drnkovski (Bitola)
Fourth official: Kiril Smokvoski (Prilep)