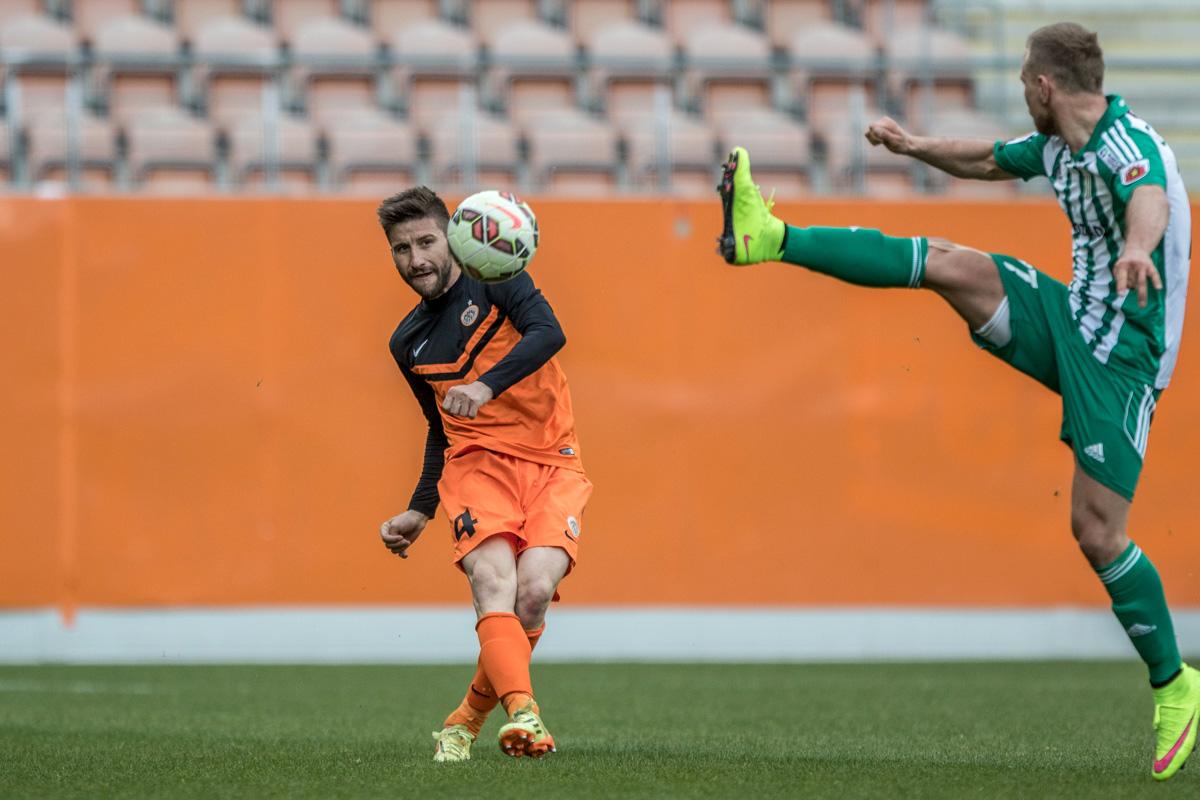 Polish agent Nicolas Gratkowski, who represents Aleksandar Todorovski, Martin Bogatinov and Aleksandar Lazevski, talked to us about his Macedonian clients and the industry.
Over the past year, our site has interviewed many players, but few agents. Obviously, agents play a crucial role in every sport, including football. To learn more about the industry, we decided to interview Polish based agent Nicolas Gratkowski. Three of his clients happen to be Macedonian players in Aleksandar Todorovski, Martin Bogatinov and Aleksandar Lazevski.
Todorovski was the first of those three players to be represented by Gratkowski. That took place once Todorovski transferred from Rad to Polonia Warszawa. The other two players, first Lazevski and later Bogatinov, followed by joining the agency of Gratkowski.
As a matter of fact, Bogatinov and Lazevski (both free agents this summer) recently signed with new clubs. Bogatinov joined Ethnikos Achnas in Cyprus, while Lazevski returned to Serbia with Mladost Lučani.
Below is our question and answer session with Gratkowski:
MF: Nicolas, tell us more about yourself? How long have you been an agent and what made you decide to pursue that profession?
NG: My partner Marek Citko was a prominent Polish striker who scored goals for the national team and in the Champions League, also playing abroad. Unfortunately, a serious injury interrupted his career. Then, faith crossed our paths and we decided to jointly invest our time and money in this business. Marek was already a respected agent in Poland, while I was also a football player in the past. I decided to follow my passion and stay involved with the game I love. Therefore, choosing this profession was simple.
MF: How would you describe the agent business? Is it as ruthless and competitive as it is often portrayed in the media?
NG: As mentioned above, work as a football agent is a combination of distinguishing characteristics in people, understanding business, possessing market knowledge and having extensive contacts. For us, competition on the Polish market is fierce. There are other agents, who objectively speaking, are very successful. I think that's good because competition makes you work harder on a daily basis. It improves your self-realization and processes within the agency.
MF: You represent three Macedonian players in Aleksandar Todorovski, Martin Bogatinov and Aleksandar Lazevski. How did you end up becoming their representative? Did you know any of them personally, or through connections?
NG: We have represented Aleks Todorovski from the very beginning, Aleks Lazevski joined our team a little later, while for some time we also promote Martin. Naturally, we most often see Todor because he plays in the Polish league. He is viewed by many experts as the best right-back in Poland. When it comes to Laza and Martin, we try to watch their matches live as often as possible. If other obligations do not allow that, then we discuss their performances via telephone, video records and scout reports. We want to correct mistakes and make sure they perform well.
MF: Bogatinov and Lazevski were free agents this summer. They recently signed with new clubs. How did you market Bogatinov and Lazevski to teams? What were the main selling points?
NG: There is no denying that Aleksandar's career was somewhat slowed by the political situation in Ukraine where he played for Goverla. Now, however, things are slowly improving. He spent the past half-year with Olimpija Ljubljana, and now I hope that he will become a regular for Mladost Lučani. That will allow him to regain his form. He has played in the Champions League and Europa League, and ultimately that is where he belongs. Every coach, sports director and club president would like to work with a player like Aleks. As for Martin, he had two proposals from the Polish Ekstraklasa and serious interest from a club in Azerbaijan, but together we decided that the offer from Cypriot side Ethnikos Achna was the most concrete option. Furthermore, the contract is written in such a way that it will not block the path forward for Martin, something that we have jointly planned. This is a high-class goalkeeper, a specialist in his field, a representative of his country's national team and a true professional in every way.
MF: How long does a typical transfer take to get done? Are there many ups and downs during the course of negotiations? Also, how do you decide which teams to contact?
NG: Each transfer is unique, so finalizing it is different for each of our clients. There is not one set procedure for transactions; often there are many twists and turns that would be hard to fit and explain in this short interview. You simply have to experience it to see for yourself. Many factors go into deciding what clubs to contact for our players. First of all, we listen to the player himself. He is the most important element. We then pay attention to how badly the club wants to obtain the player, the terms of the contract, the provisions it contains and whether the player fits conceptually with the club.
MF: From your experience, what is the best method to convince teams about the quality of your clients? Is it video, recommendations or something else?
NG: A video with the best clips and a CV is important, but the best observation is made live. Therefore, when we get a signal that a club is interested in one of our players, we invite representatives of that club to watch the player live. Then, based on that, teams can see clearly that I was right to recommend player x or y to their team. On our team, we have Marek, me and our German partner who is in charge on-site in Germany. Sometimes a player will propose a cooperation and then we have to be 100% sure that such a decision is best for our client. We want teams that will allow our clients to grow and provide a path forward in their careers.