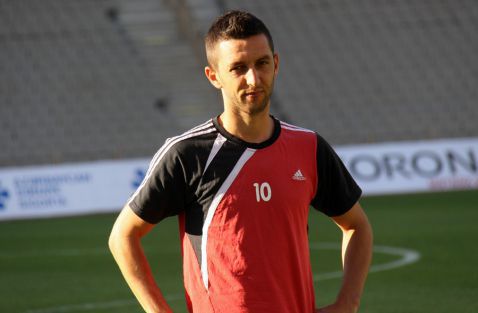 Our next interview involves Muarem Muarem who talked to us about his early beginnings, his preferred position, the difference between Macedonia and Azerbaijan, and several other topics.
Muarem Muarem was born in Skopje in October of 1988.  Based on our talks with him, Muarem began with football as a 7-year-old with Sloga Jugomagnat.  He spent 10 years in the youth system there, then moved to FK Skopje for one season, before ending up with Rabotnichki.  One of his best memories with Rabotnichki was playing against Liverpool in the qualifications of the Europa League.
Besides the Macedonian league, Muarem has played abroad in Turkey and Azerbaijan.  He suited up for Orduspor in Turkey while his current team is Azeri side Qarabağ, one of the biggest clubs in that country.  Qarabağ currently finds itself in first place of the 2013-14 season, leading second ranked Neftçi by 10 points.
Muarem, capped 5 times by senior national team of Macedonia, formerly played for the youth national teams as well.  He experienced the most success with the U21 team where he scored 4 goals.
We interviewed Muarem late last week where we talked about several different topics which you can read below in our question and answer session:
MF: Muarem, tell us a little more about the start of your career.  When did you start playing the game and what will you best remember about your time with Rabotnichki?
MM: I started playing the game as a 7-year-old with Sloga Jugomagnat where I spent a full 10 years.  Then I moved to FK Skopje where I spent one full season before joining FK Rabotnichki.  In my early tenure at Rabotnichki, I was sent on a 6 month loan to Teteks where we managed to win promotion to the First League.  Later, I returned to Rabotnichki and played one very good season, and as a club we happened to advance several rounds in the Europa League qualifications before facing Liverpool.  That was one of my best moments at FK Rabotnichki.
MF: What position suits you best and why?  What do you see as your biggest strength?
MM: Playing on the left side in attack suits me best which is also where I play with my current club Qarabağ.  My biggest strength as a player is that I can play multiple positions without any problems.
MF: You now play for Qarabağ in Azerbaijan.  How is the quality over there and how would you compare the conditions between Macedonia and Azerbaijan?
MM: I can say that we have footballing quality in Macedonia, but we are very far away when it comes to the conditions that are needed.  Here in Azerbaijan almost every team has their own base with two pitches for trainings.  Players are arriving from strong leagues such as the Netherlands, Belgium, Portugal, Spain, France and every year the league gets stronger and stronger.  Normally, then, the quality here continues to improve.  This year with Qarabağ we reached the play-off round of the Europa League qualifications where we were matched up against Eintracht Frankfurt from the German Bundesliga.  Not in one moment were we outplayed or looked out of place against Eintracht, even though we lost the two games 1:2 and 0:2 at home.  When it comes to Macedonia, there are many good footballers in our country but unfortunately the infrastructure, something that is very important to grow as a player, is missing.
MF: Formerly you played for the youth national teams of Macedonia and now play for the "A" national team.  What is your best memory of wearing the Macedonian jersey?
MM: Yes, I played for pretty much all youth categories for Macedonia.  We had a good team when I played for the U21 team as almost all of the players from that squad now play abroad in good leagues.  We had a very good manager in Boban Babunski who still leads the U21 team.  The memory that will stay with me the most is the qualifications with the U21 team when we played against England, Portugal, Lithuania and against each of those opponents I managed to score one goal apiece.  I played at a good level and managed to transfer to Turkey with Orduspor.  Furthermore, I have played a couple of times for the senior national team of Macedonia and it is very nice to wear the jersey of one's national team.  I will give my maximum to play for a long time with the national team.
MF: What do you think of the new manager Boshko Gjurovski from what you saw in the Latvia friendly?  Also, how was the atmosphere between the players?
MM: Well, in the Latvia friendly, that was the first time that I had met the manager and I believe that he wants to implement a new system in the national team that is required today in Europe and possibly all over the world.  I think that more chances should be given to the younger players who will wear the national team jersey for a number of years in the future.  I can say that the atmosphere during and before the game was excellent between all of the players.
Muarem also made the following comment about Petar Miloshevski after our 5 questions, "I have to mention one person who left a great impression on me.  That was Petar Miloshevski who I got to know for the first time during my call-up for the Latvia friendly.  I am very glad that I got a chance to know what I would call a big sportsman who truly understood the sport.  I met him for the first time during the Latvia friendly gathering and he spoke to me like he knew me for 10 years.  It was very hard when I heard the tragic news, but life continues.  May he rest in peace."