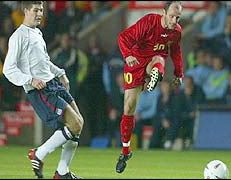 One of the most experienced Macedonian football players Artim Sakiri at age of 35 is still very active on the football pitch, but is also ready to quit playing football if he is offered the coaching position of the Macedonian national team.
– "Jürgen Klinsmann, Marco van Basten and Hristo Stoickov, they all became national team coaches right after they finished their careers, so why can't I do that with Macedonia? I have rich football experience, I know well the potential national team members and what's more important I follow the new processes of the modern football. If the Football Federation of Macedonia offers me the coaching position, then I'm ready to quit playing football. I don't want to comment about the way Srečko Katanec works, but it's obvious that we have potential to create a national team which can achieve much better results then the current." said Artim Sakiri for the newspaper "Vest".
-"I have "A"-coaching license and soon I will have the PRO-license. While I was playing for West Bromwich Albion, I visited some seminars on the coaching school organized by the English FA where I learned from former big football names. Also during my career, I've worked with many famous coaches and I learned a lot from everyone. That's why I'm sure that I can be successful coach of the Macedonian national team." said Sakiri.
Artim Sakiri is definitely one of the most experienced Macedonian football players as in his rich career, starting from his local clubs in Struga, until his current club Qarabagh in Azerbaijan, so far he has played in 17 football clubs in 12 different countries. Artim Sakiri is the second most capped Macedonian national team member with 73 appearances and also second best striker with 15 scored goals. One of those goal which will always stay remembered by all Macedonian football fans is the goal that retired David Seaman.
400 300]