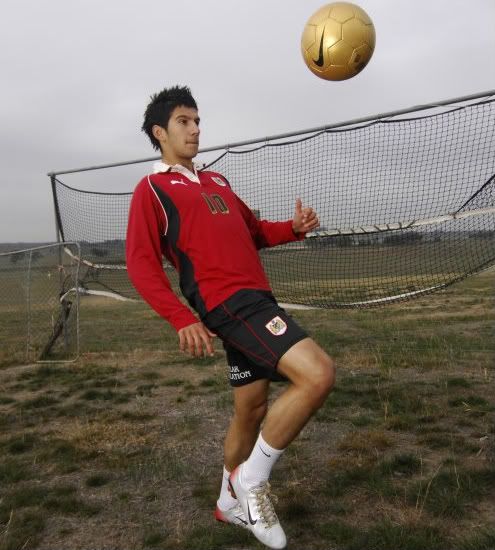 Our Australian correspondent Erik Bickford talked with Robert Stambolziev about his past, the first contact with football at Preston Makedonia and the first difficulties, the trials in England and his current and future activities.
We'll start with your junior days, What is your first memory of football?
I remember being 7 years old and beginning training with Preston Makedonia. After the first game, my mum said to me that I would never make it in football. I was devastated and wanted to prove her wrong.
Growing up in Australia, a predominantly non-"soccer" nation, did you participate and/or excel in any other sports ie: AFL, Basketball etc…?
I mainly played soccer, however I did play AFL with school friends. I also went to a college that had a soccer excellence program so it was mainly soccer / football. I also represented my college in cross country running at state level I was brought up in a soccer family my parents love soccer, my older brother also played soccer at Preston Makedonia. We also watched Liverpool games on TV.
Your youth days were spent at Preston Lions FC, With the clubs Macedonian association, did it mean a lot to you to represent the club even at youth level? & what does that club mean to you? Do you have positive memories from BT Connor Reserve?
I have mixed feelings about my time at Preston Makedonia. I did enjoy playing for the club, the colours and Macedonian heritage, which also made my family proud, however the people / committee members made it difficult for me as they wanted me out of club as they wanted to hold me back and preferred to have their sons play in my position with me on the bench. There was nepotism and it was more about who you knew rather than how good you were. I was forced to leave the club and join North Coburg, who provided me with a chance to play for their reserves and seniors even though I was 15. If I stayed at Preston, my development as a footballer would have been stifled, as I was only allowed to play for the under 16s. I was not allowed to be promoted as I would have taken someone from the Reserve teams spot. The player's dad was a member of the clubs committee. I believe this was unfair; however I don't blame the club but those individuals that tried to harm and restrict by progress.
Every youngster with a football at his feet dreams of making it big in Europe. At what age did you sense that you may have a real crack at this football gig?
I always thought deep down that I would make it as a footballer. You always have to dream and believe that you will make it. You also have to train and work on it. However, after joining Michael Kathopoulis' European Football Institute ('EFI') at the age of 14 my skills, speed, agility and professionalism really took off. My progress alerted scouts and EFI to send me over to the United Kingdom to trial with a few British clubs.
My parents were also a great help to me. They always believed I would make it. My dad would drive me to trainings every evening all over Victoria. I could also see that I was better than all soccer players my age and was able to play against First team players in the Victorian Soccer League even though I was 15.
You trained with EFI in Melbourne, How did the environment assist you in your progress and advancing your football skills? Do you think that the training regime at EFI is far better for developing juniors rather than local league club systems?
EFI provided me with the opportunity to train and play soccer nearly everyday. I was training up to 4 -5 training sessions and a game on the weekend. The specialized training introduced at EFI enhanced my skills and prepared me for the professional approach to training that occurs in the UK. Training with Preston Lions would never have been enough to make me a professional football player. Michael Kathopoulis' approach to training was a lot different to what I had seen in the past and is the main reason that I have become the player I am today. He keeps in contact with me and provides me with advice whenever I need it. I would recommend EFI to any players that have ambitions to play soccer professionally or you have ambitions to play overseas. I could not advocate EFI enough and thank Michael for all his assistance to date.
At 14 you boarded a plane headed for the UK to attempt to gain a youth scholarship at a UK club. Why did you choose that path instead of developing within the Australian system and eventually trying to secure a deal with an NSL club?
EFI organized for me to attend trials with 3 English football clubs they were Bristol City, Reading and Southend. I was fortunate enough to have both Bristol City and Southend establish interested in signing me on an academy contract. I chose Bristol City due to their facilities, coaching staff and the clubs potential to progress up the English football leagues. I always wanted to play in Europe against the best in the world therefore had no desire of securing a deal with an NSL team. At the time the A – League had yet to be established.
Who accompanied you on the trip to the UK and how important was family and peer support in you attaining a scholarship?
One other player accompanied me on the trip to the UK. The player was from the South Australian branch of EFI. We trialed together, I was successful, he however was not. So straight away I saw the two different emotions of being a footballer. I put a lot of pressure on myself to make it as I thought that this would be my last chance to make it as a footballer player. At one stage I called home devastated that I had been unsuccessful and that I had wasted my parent's time. During the conversation I was emotional to the point that I was told not to worry as I had two offered. I wanted to kill them as they didn't tell me earlier. My brother and his wife resided in London for 3 years so having them close made it easy to adapt to life in the UK and allowed me to occasionally escape from Bristol and stay a weekend away from Football.
You trialled with Reading FC and Bristol City amongst others in the UK, How daunting or motivating was that experience? What was the first thing that entered your mind when you pulled the boots on for your first trial, and what advice do you have for others looking to do the same?
All I remember was that I really wanted to do well. I wanted to do well for myself, my family and Michael Kathopoulis who all believed in me. I also wanted to prove the Australian Football Federation wrong for not including me in their Australian squads at the time. The thing I remember about the trials was how enjoyable the training sessions were and how easily I fitted in with the team even though some of the players were 3 – 4 years older than me. As you may recall I was training with the under 18s even though I was only 14 at the time.
When you were informed that you were successful in attaining a youth scholarship at BCFC, what was your reaction? How did your family and friends react to the news?
My family already knew that I was successful in obtaining a youth scholarship with Bristol and Southend however didn't tell me until near the end of the tour. I wanted to kill them for not telling me earlier. At the time I remember feeling down as I thought that I had let everyone down and had missed my chance to play football in Europe. Once I got back home everyone was excited for me.
It was recently reported that you were offered a full time professional contract with BCFC? Is this true, and how long is the contract?
No, the report was incorrect. I still have until July 2009 for my academy contract to run. I hope to be offered a professional contract before then.
Have you had any discussion with Gary Johnson & John Clayton about first team football, and their plans for your progression?
Gary and John have had discussions with my agent, however are keeping their cards close to their chests. I am still part of the academy and playing for the reserves. Recently I have been getting called up to train with the first team.  They have both been very supportive so I just have to keep my head down, keep playing well and keep scoring goals.
Former & Current Socceroos like Luke Wilkshire, Nicky Carle & Paul Agostino have worn the BCFC shirt in the past, Do you see yourself as the next "Skippy" to don the senior shirt with pride? Did you speak to any of them about the club or seek any advice from them?
Yes, Bristol City does seem to have an association with Australian players. It is a pity that all the players you have mentioned only stayed with Bristol City for a limited time though. Hopefully, I will be able to be the next Australian to play for Bristol City for a number of years. Luke and Paul were both before my time with the club but I was introduced to Nick and spoke to him on a few occasions about growing up and playing in Australia. I was disappointed to hear when I arrived back for preseason that he had been sold to Crystal Palace. I don't really seek any advice or guidance from any of the other professional players. If I need advice I would talk to John Clayton (the academy coach). It was also pleasing to have realized that Bristol City have a good following in Australia, particularly Phil from Belgrave.
Jan Versleijen recently called you up for training camps in Holland and home in Canberra for the U-19 squad, Describe that experience?
This is a difficult question. The best way to answer it is to be honest and include all the facts. I don't want to be seen as a whinger however I think that it is important that the truth comes out. Firstly, I want to make it clear that I was not called up for the U-19 squad by Jan Versleijen. I was called up to attend a 4 day training session and was surprised that it was with the U-17 Australian team coached by Martin Crooks. The first day included light training session and warm ups. The second day was a game against a third division Dutch side that I did really well. I don't think that I have ever played better than in that game. I totally dominated and that is not an exaggeration. I was really happy with my performance. The next day I was told that I had done well and that I could go back to Bristol as they were going to have a rest day and the following day they were going to play in some tournament. I flew back to Bristol, thinking that I must have impressed them enough for them to send me home early and to be included in further squads. Bristol received a fax requesting whether they would allow me to attend a training session in Canberra if I was selected. I received a text from one of the Dutch coaches saying that the report he received from the U17 coaches was 'Robert is a good boy however we have been told to only keep an eye on him'. I couldn't believer that I was played a fool. They never had any intention of picking me it was just an exercise that they had called me up, looked at me. They way it was handled was a kick in the face to me. I was not provided with a fair opportunity to show what I can do. To make matters worse, I have since realized that the U19 squad subsequently visited Europe for training sessions and called up some European based players. This would have been a good opportunity for the Dutch coaches to see me. I was not called up or provided an opportunity to show them what I can do. I was surprised to see that they have subsequently included players that a play in the reserves of Conference teams such as Stevenage rather than me. There are also many other Australians that are playing at Academy level in the UK for big clubs such as Aston Villa that weren't included. It seems that they pick players based on who went through either the AIS or State academies rather than players who have made their own way to overseas clubs through private academies, as they are worried if they promote players like me, others would decline attending their programs and try making their way to the UK at an early age rather than playing in Australia.
After both training camps, you were overlooked for both the ASEAN championships in Thailand, and more recently for the upcoming AFC Championships in Saudi Arabia. Is this a mental setback for you, especially when it is clear in your mind and the general football public that were indeed good enough to make these squads? Do you get frustrated by this? How?
Like I said above I wasn't invited to either of the official training camps as I should have been. I don't think I was provided with a realistic chance to be included in the ASEAN or AFC Championship squads. The fact that the Australian team are doing well is great for Australian soccer and the Australian people. They deserve to have successful national teams particularly as the Australian government provides so much funding to the AIS and state Institutes. I won't lie that I was frustrated at not being included in the Australian team or provided an opportunity by the new Dutch coaches to show them what I could do. In addition, I haven't shown the people of Australia what I can do. I have played with a number of those players and know that I am a lot better than most of them. Most are playing in the newly established national youth league while others are playing in the State Leagues of Victoria or New South Wales. I don't want the people of Australia to think that I am big headed or that I am not grateful to Australia, if I end up being picked and playing for Macedonia. The fact that I have constantly been overlooked in the past by Australia and how I was treated and overlooked for the AFC Championships and possibly the under 20 World Cup gives me the indication that I will never be included.
There have been lobby groups within the Macedonian Football Association pushing to get you to wear the MKD shirt, Its also been reported that Mirsad Jonusz has not yet contacted you formally contrary to his statements. Your modesty shows, when you said there may be many other youth MKD players who should get a call up first, however is it a real possibility for the fans to see you wearing the red & yellow if the powers that be in Skopje give you the thumbs up?
I really hope that I get a call up soon so that I can show all the Macedonian people what I can do. I would like to thank all those who have lobbied for me to wear the Macedonian shirt.