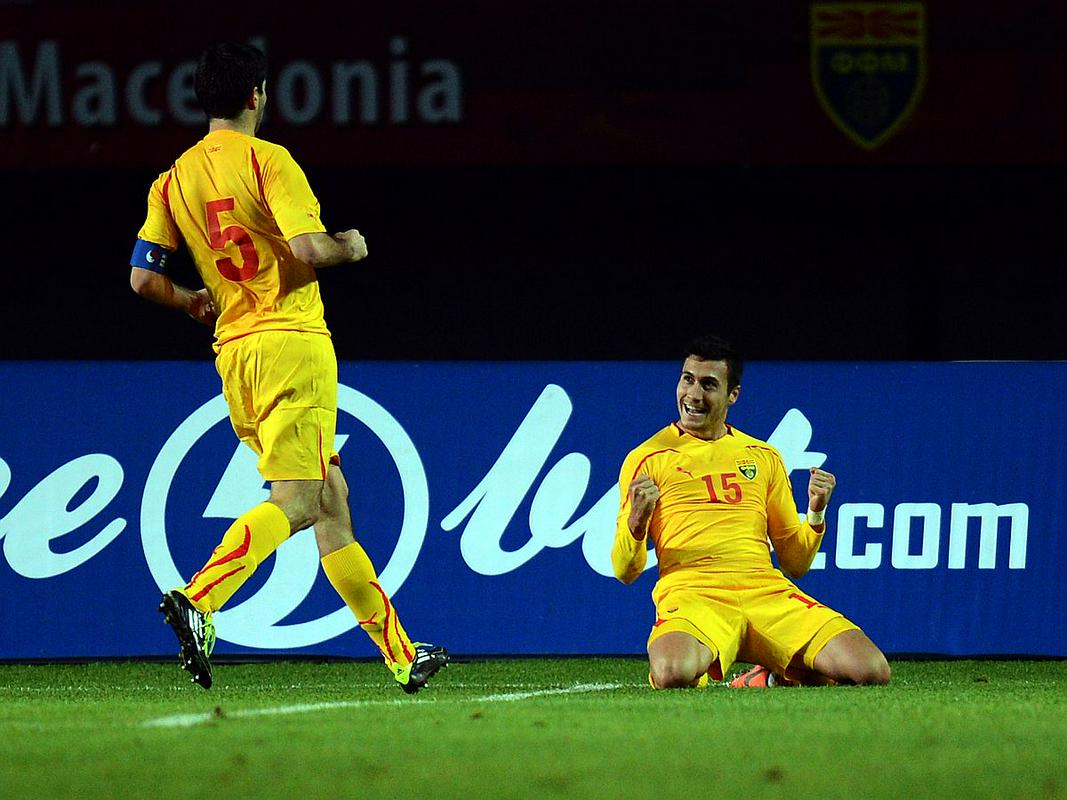 The latest player to feature in our interview series is Adis Jahovikj, a striker for the Macedonian national team who plays his club football in Ukraine with Vorskla.
Adis Jahovikj recently turned 27 years old, on 18 March to be exact.  Adis was born in Skopje and he told us during our interview that he began his career in the youth academy of local club Makedonija Gjorche Petrov.  He passed through all their your categories before signing a scholarship contract at the age of 18.
Jahovikj, after his time in Macedonia, moved abroad where he has played in Bosnia, Switzerland and now Ukraine.  In Bosnia, he played for two of the biggest clubs in Željezničar and Sarajevo.
In the summer of 2011, Adis departed for Switzerland when he signed with second division club FC Wil.  It was at Wil that his career began to take off and other teams took notice.  Jahovikj was scoring consistently and his form then caught the eye of FC Zürich.  Wil loaned Adis to Zurich where he scored 4 goals in 15 league appearances.  However, after the manager who brought him to Zurich was replaced, Adis did not receive as many opportunities under the new coach.  So, as he told us in the interview, Jahovikj asked Zurich to end the loan agreement early so he could return to Wil.
Adis got back to scoring goals on a consistent basis for Wil, and then on the final day of the 2013 summer transfer window he transferred to Vorskla from Ukraine.  Jahovikj told us that the transfer cost 600,000 Euros.  In the interview, Adis also told us about his current contract situation with Vorskla.
Below is our complete question and answer session with Adis Jahovikj:
MF: Adis, tell us a little more about the start of your career?  What do you remember most about your time in Macedonian football?
AJ: My first steps in football occurred when I was 7-and-a-half years old at Makedonija Gjorche Petrov.  I passed through all the youth categories when, at 18 years old, I signed a scholarship contract.  At that time, our manager was the Serbian coach Radmilo Ivancevic.  Because I couldn't be in the starting 11, I asked to be loaned to another club where I would play.  Thus, they loaned me to the Second League with FK Metalurg.  I was there for 1 year and with Metalurg we won promotion to the First League.  However, I returned to Makedonija Gjorche Petrov to ask for my documents because I had an offer from Željezničar in Bosnia.  Therefore, I left for Bosnia.
MF: After suiting up for Makedonija Gjorche Petrov, you then played in Bosnia, Switzerland, and now Ukraine.  How would you compare the conditions and qualities in those leagues?
AJ: Well, there is not much difference between the Macedonian and Bosnian leagues.  Those two countries are similar in quality.  Switzerland, on the other hand, is much stronger which is also the case with Ukraine as well.  I think more football is played in Switzerland as opposed to Ukraine.  Tactically and football wise, Switzerland is a stronger league than Ukraine.  However, the conditions in Ukraine, especially financially, are better than Switzerland.  Meanwhile, going back to Macedonia and Bosnia, the conditions are the same, there is no difference.
MF: When you signed in Switzerland, you experienced a lot of success with FC Wil.  That allowed you to first join Zurich on loan and then transfer to Vorskla.  How would you characterize your time with FC Wil?
AJ: Well, I was very happy and FC Wil gave me added motivation to further develop and showcase my qualities.  Wil's philosophy in Switzerland is similar to that of Ajax in Holland.  They sign talented young players, then develop their game, before selling them to bigger clubs.  That's how they survive as a club.  I worked very hard at Wil and the results showed that.  Later, they loaned me to FC Zürich where I started well until the coach was replaced and all of a sudden everything changed.  At my insistence, I asked the club to return me to Wil where I was sure that I would again make a transfer in the future.  That happened when I transferred to Vorskla.  My contract cost 600,000 Euros for that transfer.  Therefore, you never know, I may even finish my career with Wil.
MF: You are now in Ukraine with Vorskla.  Are you happy there and are you satisfied with your play with that club?  How is your contract situation with Vorskla?
AJ: Yes, I'm now in Vorskla, a new team, a new league and a new ascend for me.  I am satisfied here with the conditions and professionalism of the club.  The coach has big confidence in me and I reward his belief with good performances.  It is important to play 90 minutes in each game.  The other thing here is that little by little I'm fitting in.  I have a contract until the end of this season, but now they offered me a new deal so we are talking about that.
MF: In November of 2012, you debuted for Macedonia and managed to even score a goal.  How was that feeling?  What does it mean to you to wear the Macedonian jersey?
AJ: Honestly, I lived for that day to wear the jersey of Macedonia.  That happened against Slovenia when then manager Chedomir Janevski game me a chance.  I took advantage of it in the best way by scoring a goal and assisting on another goal.  I was very happy and inside I couldn't believe what was happening, first the call-up and later the goal.  My dream was realized to play for the country where I was born and grew up.  The jersey is one simple colored shirt, but the name of the country on it is something sacred.  That is why I will always want that jersey and will give my maximum for Macedonia.
MF: Finally, what would you tell new manager Boshko Gjurovski, who did not call you up for the Latvia friendly last month, about your qualities?  How could you help the national team?
AJ: Yes, it is true that I wasn't called up for the friendly against Latvia.  I was very surprised and sad, but what can you say.  That was the decision of our new manager and it needs to be respected.  I was very happy that we won and that's the approach we should take every game.  We should go for wins in each game and show that we Macedonians also possess quality and know how to play.  I don't personally know the new manager Boshko Gjurovski.  I have heard that he used to be an assistant coach for a club in Japan or Korea, if I'm not mistaken.  In the future, if I were to receive a call-up, like always I would give my maximum for my birth country and to help with my qualities as much as I can.