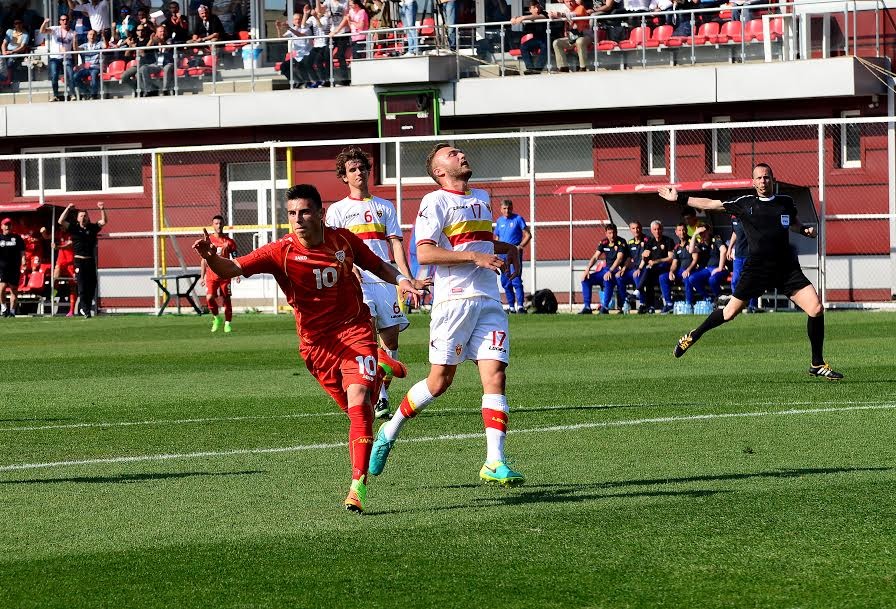 In the friendly between the new U21 generations of Macedonia and Montenegro (players born in 1996 and younger) the lions had the better end thanks to two goals scored by Elif Elmas and Konstantin Cheshmedjiev.
The game between Macedonia and Montenegro started slowly, both teams were focused to keep a clean sheet. Macedonia created the first chance in the 13th minute when captain Petkovski received a pass close to the box and took a shot from 17 metres. Unfortunately, the shot went past the goal. Montenegro had their first opportunity in the 19th minute with a shot from around 18 metres. Five minutes later Dorian Babunski sent a great pass to Petkovski, but the latter wasn't able to found Elmas in the box, his pass was not precise enough. Macedonia controled the game and in the 31st minute the domination resulted in a goal by Elmas. Once again Babunski made a great pass, Elif controled the ball and finished with a right-footed shot from inside the box. Just a couple of minutes later Kostadinov had an effort after a pass by Popzlatanov, but the shot slightly missed the goal. In the 43rd minute Kostadinov had another oppurtunity from just outside the box after a free-kick taken by Totre.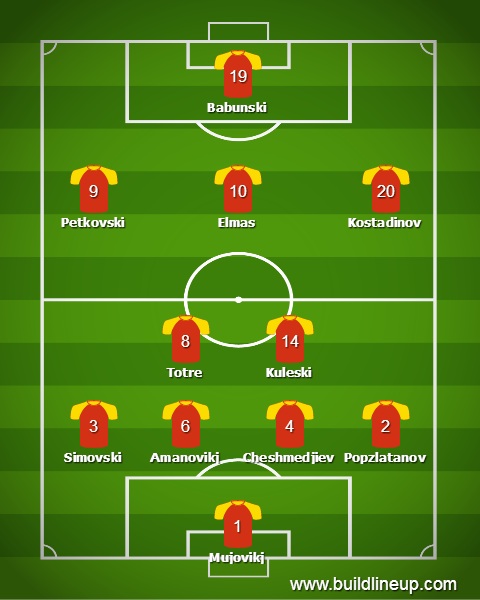 The second half started slowly just like the first and the visitors had the first concrete chance in the 65th minute. Nevertheless, Macedonia was the better side and netted the second and last goal of the game in the 73rd minute. Popzlatanov, who after some substitutions moved to the right wing, was fouled in the box. Centre-back Cheshmedjiev converted the penalty. Coach Milevski made eight substitutions during during the last half hour what had an effect on the game, thus there were not a lot of chances created.
It's good to see that the new generation is getting better and better. One year ago there were not a lot of players in the focus, but now there is a core of good players and there are also some even younger talents moving up. What is also important is that Milevski is again able to create a good team chemistry, all of the players know their role and no one is playing bad. There is hope that the new guys can tie up to the success of the actual generation.
Macedonia U21:
1. Mujovikj; 2. Popzlatanov (84′ 18. Zdravkovski) 4. Cheshmedjiev 6. Amanovikj 3. Simovski (60′ 23. Atanaskoski); 14. Kuleski (70′ 15. Jevtoski) 8. Totre (60′ 11. Demir); 20. Kostadinov (84′ 21. Alomerovikj) 10. Elmas (70′ 13. Stojanovski) 9. Petkovski (C) (70′ 7. Abaz); 19. Babunski (60′ 17. Selmani)
1:0 Elif Elmas (31′), 2:0 Konstantin Cheshmedjiev (73′)