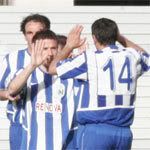 Only few days after coach Bilbil Sokoli left the club, FK Renova from Dzepciste appointed new coach and bought Besart Ibraimi as beginning of the preparations before the start of the Intertoto Cup.
Vlatko Kostov, who managed Renova in the past, is back in the club. This season Kostov managed Turnovo and took the club in the Macedonian first league. In the past, the young coach leaded Renova in the past and this time he is back to lead the club in their debut in the European competitions.
The other reinforcement is the Macedonian U21 national team member Besart Ibraimi. This season Ibraimi was the best player in Napredok's squad and managed to score 12 goals and now he will try to repeat his good performances for Renova on the European stage. He has signed a 4-years contract but Renova's management will makeno problems if he receives an offer from abroad.
In the first round of the Intertoto Cup, Renova will meet NK Rijeka from Croatia. First leg matches are played 21 and 22 June 2008 when Renova will travel to Rijeka and the second leg on 28 and 29 June 2008 when Renova will host Rijeka on the Gradski stadium in Skopje.