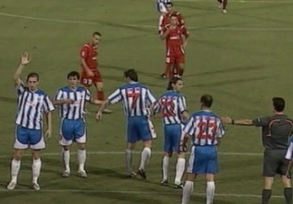 After the 1:2 defeat in Skopje, Renova failed again to convert the possession and pressure on the opponents goal and ended the Euro journey with another defeat. Israeli club Bnei Sakhnin won with 1:0.
Renova had nothing to lose after the 1:2 defeat from Skopje and went to Israel with an imperative to win and qualify for the next stage of the Intertoto Cup. The motivation was big, because Spanish giants Deportiva La Coruna waited the winner from the duel between Renova and Bnei Sakhnin.
Renova was more active in the return leg and had the possesion and tried to create chances on Bnei Sakhnin's goal but failed to creat any serios chance that can be converted in goal. In the 17th minute, Hamed Rannaim scored a wonderful goal from 25 meters. This goal brought big lead for Bnei Sakhnin on aggregate after which both teams lowered the tempo and settled with the result.