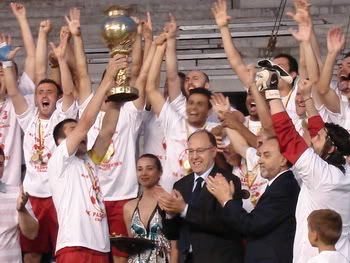 In a tough match partially played under heavy rain, Rabotnicki beat Makedonija GjP and won the Macedonian Cup final. The match ended with 1:1 in regular time and after the extra time and seven series of penalty kicks, Rabotnicki won with 7:6.
Makedonija Gjorce Petrov Skopje – Rabotnicki Skopje 1:1 (6:7 after penalties)
65′ Kleckaroski – 89′ Pandev
The 17th Macedonian Cup final will be marked by the heavy conditions for playing on the National arena Philip II of Macedon. The organizers of the final match didn't predict the heavy rain and the darkness, so after the heavy rains and the low visibility, the lights on the stadium were finally turned on in the 70th minute of the match.
The match started under heavy rain, so it made some problems for both teams to organize their attacks. With content play, the 5000 fans on the stadium didn't saw many big excitements on both sides, except for some shots that ended way off the target. Rabotnicki had one serious threat, but the first half finished with 0:0.
Heavy rain again marked the beginning of the second half but this time both teams went more aggressively on the opponent's goal. Makedonija were more successful in their attempts and took the lead in the 65th minute when Ilievski assisted Nikolce Kleckarovski who scored the opening goal and caused big celebration for the bigger part of the fans on the stadium. Ilco Gjorgjioski's squad successfully managed to control the play in the middle of the pitch and keep the lead until few minutes before the full time. And then happened the big shock for Makedonija. Everybody waited for the final whistle, but Sasko Pandev sent a cross from the left side. The ball surprised Makedonija's defense and the goalkeeper Pavlović, lobbed them and ended in the net.
The match ended with 1:1 and went in extra time. The tired players didn't had much energy left in their feet to create some big chances on the wet pitch in the two extra halves, so the match went on penalties.
Wandeir, Ze Carlos, Trajcev, Dimovski, Savić and Pandev scored and only Perendija missed for Rabotnicki. Brnjarcevski, Kleckarovski, Ilievski, Milevski and Lena scored for Makedonija, but de Brito and Jovanovski missed their penalty kicks, so Rabotnicki won their second cup title.