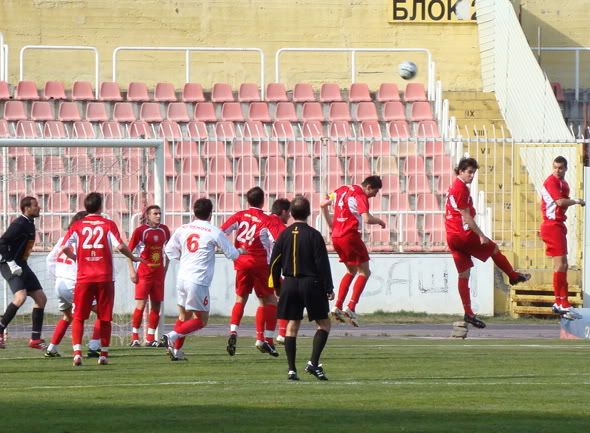 6th round played over 4 days is next in line with 1 match already played and 5 remaining. Rabotnicki and Sileks shared the points yesterday and remained the only teams without a defeat.
Today, Renova has the favorites role and a good chance for closing the gap with leaders Rabotnicki when they take on Pobeda. With a win at home Renova will be only one point behind leaders Rabotnicki. Pobeda are on the 11th place finally reaching 0 points after they had a deduction of 3. Renova are not their favorite opponent considering they have lost 7 times from 12 matches. The last time these two met in Tetovo ended 2:1 for Renova.
Milano will be hosting Teteks in the quest for gathering the first point. The situation in Milano is alarming and players are leaving the club. This match, as previous, is put in question and it was not known whether it will be played. Teteks are visiting as favorites and they can reach Pelister with a win here and getting 3 new points.
Tomorrow, live on A1, Metalurg will be playing against champions Makedonija Gjorche Petrov. Without a win still, the atmosphere in Metalurg is not charming and newspaper Makedonski Sport reported of a fight between two players. Makedonija are still hot and cold with their performances showing excellent play at home but not so good away. Last season Makedonija were more successful winning twice and one match ended in a draw.
Pelister without Alekso Mackov who left the club will be hosting Turnovo Horizont. The team from Bitola will be led by Zlatko Cvetanovski, Mackov's assistant and the coach who led Pelister after Nedzat Husein left. For the match Pelister is almost complete, the only absence is that of Nemanja Bradonjic who is injured. The visitors, on the other side, have more squad problems and 5 or 6 players are doubted. In the last season Pelister failed to win over Turnovo in the last round and had to play a play-out match against Shkendija. Yet, in the 5 meetings between these two teams Turnovo never managed to win.
On Monday, Sloga Jugomagnat will be hosting Vardar. A duel between two former champions, a match that will certainly attract lot of attention. Vardar are not shining but a possible entrance of a Croatian sponsor is announced which certainly throws a light over things. Vardar's last win was on 9th of August at home against Teteks and since then they haven't felt the better side of the match end. Sloga's only win so far came also at home and also against Teteks. Both these teams have same balance so far and the most attractive match this round should be this one.
Betting advices
Betting office NordicBet offered these odds and on first sight a combination of Teteks and Renova to win seems highly likely to succeed. Teteks+Renova should be choice number one.
It would be interesting to see how Pelister will react without Mackov but it should be a game where the hosts can take the three points especially because of the many absences in Turnovo's squad.
Metalurg and Makedonija might share the points, while Sloga on home field might have the edge to score one more then Vardar.