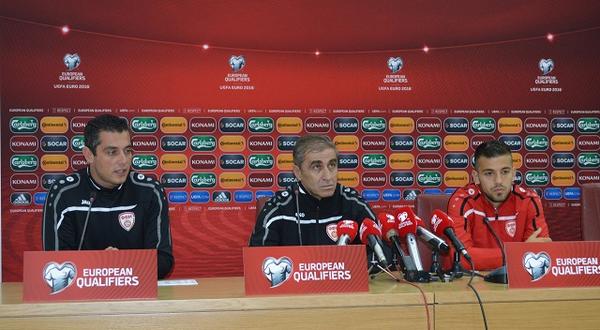 Macedonia will look to bounce back from a tough opener against Spain last month when they host Luxembourg later today in what is a must win game.
Before the start of these qualifications, Macedonia's manager targeted a third place finish in the group.  Last month, in their opener, Macedonia was overwhelmed and lost soundly against Spain, but to be fair it was unrealistic to expect anything out of that tough road clash.
Now, things are much different this time as Macedonia is a favorite going into today's home encounter versus Luxembourg, considered the worst team in the Group C.  Luxembourg is no longer a pushover in the mold of Andorra, Faroe Islands or San Marino, but they are a team that needs to be defeated if Macedonia is serious about achieving a top 3 finish in the group.  Luxembourg drew 1:1 vs. Belarus last month and before that they also drew 1:1 against both Köln (German Bundelsiga club) and Italy's national team in friendlies.  So, as those results illustrate, they will not be an easy team to break down.  However, anything but a win today would be a disastrous result for Macedonia.  On paper, of the ten games that Macedonia will play in these qualifications, this is one game, at home, that you pencil in as a must win game.  There is no other way to spin it.
Luxembourg will be without one of their key players in striker Aurélien Joachim, who plays for CSKA Sofia in Bulgaria, as he has been ruled out with a thigh injury.
As for Macedonia, the squad is largely similar to last month's team with the exception of the midfield position.  The manager was not happy with the play of the midfielders last month, so he called up returnees Muarem Muarem and Nikola Gligorov along with Arijan Ademi of Dinamo Zagreb.  Ademi only missed the Spain game with an injury, but he is being viewed as a big reinforcement in the very problematic defensive midfield position.  He has looked solid in trainings and will debut in today's match vs. Luxembourg.
For the Luxembourg and Ukraine matches this week, Gjurovski will go back to a 4 men defense after his decision to field five defenders vs. Spain proved to be a mighty mistake.  Macedonia will likely open with a 4-2-3-1 formation with the lone questions being CF, left winger and who will partner Ademi in defensive midfield.  Jahovikj has missed several quality chances in recent times, so he may be dropped in favor of Jovan Kostovski or Mirko Ivanovski.  Meanwhile, one reliable source told us that Besart Abdurahimi will not start at left winger, so look for Muarem or Krste Velkoski to open there.  Finally, Nikola Gligorov, Muhamed Demiri and Stefan Spirovski are competing as to who will start in the second defensive midfield spot besides Ademi.
Macedonia vs. Luxembourg will kick off at 20:45 CET in Skopje with the referee being Italian official Paolo Mazzoleni.  Gianluca Rocchi was initially listed as the main referee by UEFA, but he was recently suspended for his controversial performance in the Serie A clash between Juventus and Roma, so Mazzoleni will now be in charge.
Here is the commercial for these qualifications:
What is your prediction of today's game? Let us know in the comments section.