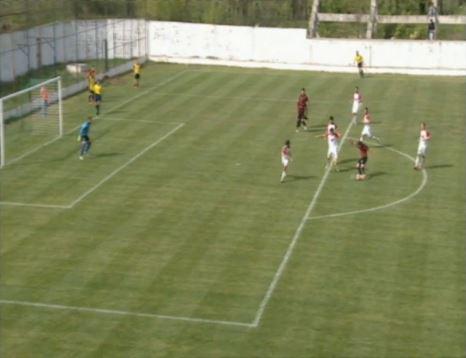 Shkendija scored a late goal to get past Vardar, Rabotnichki was held to a home draw against Metalurg, while Sileks narrowly beat Pelister to guarantee itself a top-6 finish, thus avoiding the relegation play-off.
The most exciting game of the day took place in Skopje between Rabotnichki and Metalurg. These are two teams that have similar philosophies in fielding young players and playing attractive football. This encounter saw a total of four goals, all coming in the opening 40 minutes. For Rabotnicki, Bazhe Ilijoski scored on a close range header, while Darko Velkovski got his goal on a second effort after his initial free kick was blocked. As for Metalurg, Marjan Radeski netted an easy goal on a rebound opportunity, while Aleksandar Stojanovski converted a penalty after Radeski was brought down inside the area.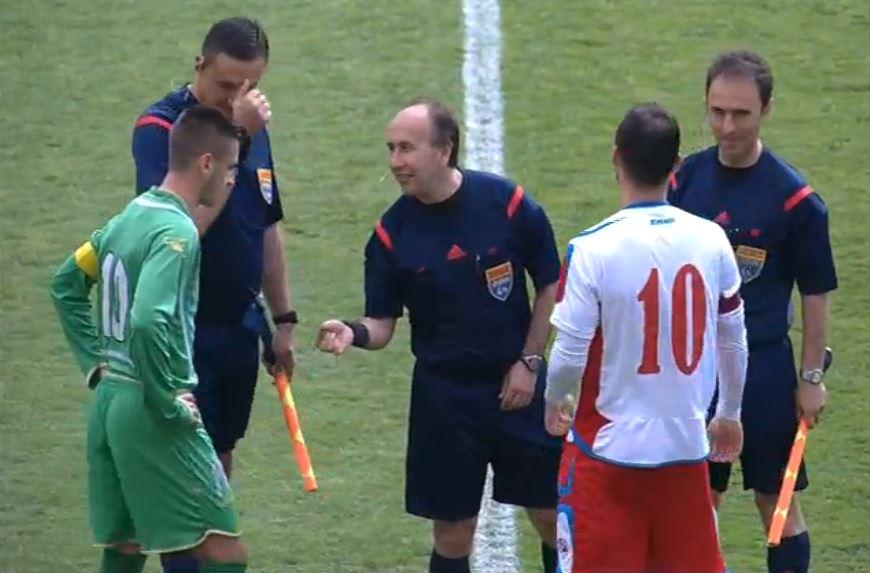 Rabotnichki: Efremov, Ilievski, Velkovski, Dodevski, Siljanovski (80′ Tih. Fidanoski), Cikarski, Petrovikj, Vujčić (31′ Sahiti), Anene (59′ Markoski), Altiparmakovski, Ilijoski.
Metalurg: Taleski, Ristovski, Ilieski, Krivanjeva (25′ Krstev), Gjorgievski, Jevtoski, Mitrov, Angelov (62′ Naumoski), Stojanovski, Radeski, Bujchevski.
Turnovo managed to collect a hard fought point in the difficult away fixture against Renova. Gjorgji Tanushev handed the visitors a 0-1 lead in the 26th minute, but it only lasted eight minutes after Renova's top scorer Izair Emini equalized.
Renova: Mustafi, Musliu, Mecinovikj, Mishkovski, Memedi (83′ Markovski), Mojsov, Gafuri, Fetai (76′ Skenderi), Nuhiu, Emini, Ramadani.
Turnovo: Zahov, Iliev, Mutafchiyski (46′ Djinov), Tashev, Milushev, Kochoski (23′ Stoilov), Tanushev (54′ Markov), Ivanov, Najdenov, Gjorgiev, Pandev.
In Kratovo, Sileks clinched a top-6 finish with the home victory over Pelister. They no longer have to worry about entering the relegation play-off (for teams ranked 7th to 10th). With only one round remaining in the regular season, they can't be caught by any of the bottom four teams. In this game, an early goal by Nikolcho Gorgiev was enough to propel them to the three points.
Video of the lone goal:
Sileks: Nikov, Timovski, Janev, Ristevski, Mickov, Rudan, Gorgiev, Acevski (58′ Jakov), Todorov (73′ Panovski), Duranski, Nedeljković.
Pelister: Dragojević, Petreski (65′ Ljamchevski), Milenkovski, Stepanovski, Cheshmedjiev, Todorovski, Anastasov (73′ Smokovski), Mustafov, Mitić, Biljali (46′ Stanojević), Tsirlidis.
Bregalnica keeper Filip Gachevski, formerly a member of the Macedonian U21 national team, kept a clean sheet for the seventh consecutive match. However, that has only resulted in two wins since Bregalnica has played five goalless draws, including today against Teteks. Bregalnica relies on an organized defense to keep them in games and then counter attacks to score goals, but they could not manage to get on the scoresheet versus the last placed side.
Teteks: Manchevski, Najdovski (60′ Cvetanoski), Drobarov, Stojchevski, Oslonovskiy, Atanasoski, Filipovski, Adem (82′ Osmanovski), Nachevski, Hristov, Churlinov.
Bregalnica: Gachevski, Mitrev, Tonev, Gjoreski, Ristovski, Blazheski, Nikovski (73′ Andonov), Hristov, Kostov, Zdravkov, Stupić (71′ Iliev).
On Friday, the remaining game of the round took place. The derby between Shkendija and Vardar lived up to the hype. The opening goal came in the 11th minute when Stenio Junior made a dribble to create room from his marker before firing a powerful shot past Vardar keeper Tome Pachovski. Four minutes later, Shkendija was down to 10 men when left-back Stefan Ashkovski fouled Jasir Asani. Since Ashkovski was the last man, he was rightfully shown a direct red card by referee Dimitar Mechkarovski Despite that player advantage, it was Shkendija who doubled the lead in the 38th minute. A free kick by Bojan Vručina hit the hand of a Vardar player on the wall. The referee immediately pointed to the spot, which Vručina converted. Vardar did pull one goal back just before halftime when Senijad Ibričić sent a diving header to the back of the net. The 2:1 lead for Shkendija stood until the 76th minute when Nikola Gligorov scored a nice individual goal on a shot from inside the area. However, Shkendija would retake the lead in the 82nd minute when Victor Juffo sent a shot from the edge of the area past Pachovski. That proved to be the game winner as Shkendija moved back into third place (they now lead fourth placed Renova by one point).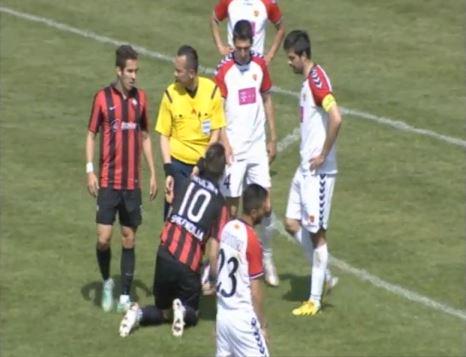 Shkendija: Jovanovski, Todorovski, Bejtulai, Polozhani, Ashkovski, Demiri, Alimi, Totre (55′ Bojku), Juffo, Stênio Júnior (85′ Adili), Vručina (69′ Kirovski).
Vardar: Pachovski, Hambardzumyan, Bojović, Grncharov, Grozdanoski (62′ Ljamchevski), Despotovski (57′ Dashyan), Gligorov, Asani (77′ Ivanovski), Ibričić, Blazhevski, F. Petkovski.
Round 26 results:
Rabotnichki – Metalurg 2:2 (2:2)
8′ Bazhe Ilijoski, 37′ Darko Velkovski – 10′ Marjan Radeski, 40′ (pen) Aleksandar Stojanovski
Renova – Turnovo 1:1 (1:1)
34′ Izair Emini – 26′ Gjorgji Tanushev
Sileks – Pelister 1:0 (1:0)
2′ Nikolcho Gorgiev
Teteks – Bregalnica 0:0
Shkendija – Vardar 3:2 (2:1)
11′ Stênio Júnior, 38′ (pen) Bojan Vručina, 82′ Victor Juffo – 45′ Senijad Ibričić, 76′ Nikola Gligorov