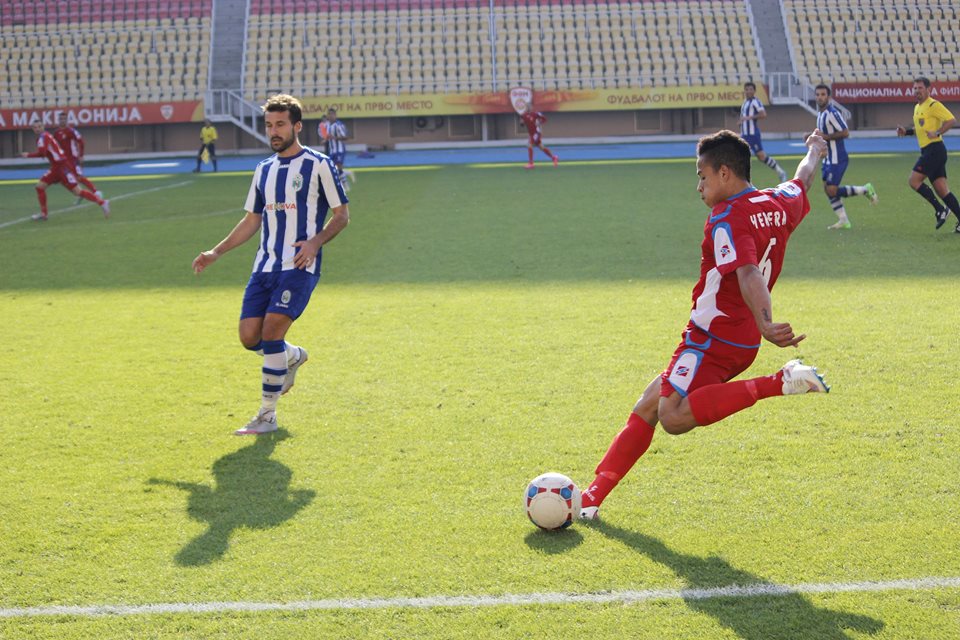 Vardar barely edged Mladost courtesy of a penalty kick, Shkendija cruised past Metalurg, while Rabotnichki settled for yet another subpar result.
Vardar, without the injured Dejan Blazhevski and Artak Dashyan, had a tougher time than expected against Mladost. They were made to sweat, but eventually prevailed 1:0. The lone goal came via a converted penalty kick by Juan Felipe in the 41st minute. The penalty came about after Jasir Asani was fouled inside the area. Mladost was livid at the call as numerous players then surrounded the referee to express their displeasure. Still, the call stood and midfielder Juan Felipe calmly converted the spot kick by sending the keeper the wrong way for the only goal.
Highlights of the game:
Mladost: Petrovski, Elmazovski, Grozdanoski, Simjanovski (58′ Markovski), T. Veljanoski, Dalcheski (46′ Velevski), Nikolovski, Dimoski (75′ Merko), Konjarski, Sali, Kalanoski.
Vardar: Pachovski, Hambardzumyan (76′ Brdarovski), Grncharov, Mijušković, Popov, Gligorov, Spirovski, Asani (57′ Petkovski), Juan Felipe, Stojkov (71′ Ljamchevski), Ivanovski.
Shkendija experienced no problems with Metalurg, putting the game away by the 25th minute. They were then under cruise control. Attackers Marjan Radeski and Besart Ibraimi scored one goal apiece for Shkendija. Radeski's goal came on a header and he decided not to celebrate, showing respect to his former team. As for Ibraimi, his goal came after a defensive mistake which allowed him to score into an empty net. With this result, Shkendija remained one point behind Vardar on the standings.
Highlights of the game:
Shkendija: Jovanovski, Todorovski, Rech, Berisha (85′ Useini), Cuculi, Demiri, Polozhani, Totre, Radeski (70′ Vručina), Stênio Júnior (79′ Asani), Ibraimi.
Metalurg: Taleski, Ristovski, Ilieski, Krivanjeva, Jevtoski, Karanfilovski (54′ Leskaroski), Tanturovski, J. Naumoski, Stojanovski, Angelov, B. Naumoski (90′ Shoposki).
At the "National Arena Philip II of Macedonia," Rabotnichki continued its subpar league campaign. The club blew another lead, this time to Renova. Bazhe Ilijoski handed Rabotnichki the 1:0 lead midway through the 1st half, but their poor finishing would prevent further goals. The punishment would come in the 77th minute as another veteran striker, Izair Emini, netted the equalizer for Renova.
Rabotnichki: Bozhinovski, Ristevski, Ilievski, Herrera, Jovanoski (82′ E. Sahiti), Petrovikj, Trajchevski, Vujčić, S. Sahiti (78′ Ristovski), Altiparmakovski (71′ Mitrov), Ilijoski.
Renova: Efremov, Mecinovikj, Mishkovski, Sadiki (57′ Mojsov), Gafuri, Shabani, Fetai, Ramadani, Shakjiri (57′ Selmani), Nuhiu, Emini (90′ Skenderi).
Sileks was the firm favorite against Turnovo, but they could only muster a home draw. After an uneventful hour of action, the two combined goals would come in the latter portion of the game. Turnovo benefited from an own goal in the 66th minute before Sileks leveled the score ten minutes later.
Video of the goals:
Sileks: Mitrović, Timovski, Mickov, S. Rudan, Ivanov, Gucev, Gligorov, Acevski (67′ Panovski), Todorov, Gorgiev (87′ Marikj), Nedeljković (75′ Gjurchinovski).
Turnovo: Stoilkov, Tashev, Ivanov (46′ Iliev), Mavrov, Milushev, Tafe, Tanushev (60′ Stoilov), Najdenov, Kochoski (85′ Taipi), Imeri, Pandev.
The remaining fixture of this round between Shkupi and Bregalnica saw no goals. Neither team could break down the opposing defense, leading to the predictable result in such scenario.
Shkupi: Zendeli, Murati, B. Asani, Adili, Lazarevski, Bajrami, Bae (84′ Janevski), Osmani, Adem (62′ Arif), Iseni, Demiri.
Bregalnica: Zahov, Tonev, Stojanov, Mitrev, Zdravkov (82′ Blazheski), Kocev, Nikovski, Kostov (46′ Stanković), Velkovski, Ristovski, Nacev (46′ Iliev).
Round 12 results:
Mladost – Vardar 0:1 (0:1)
41′ (pen) Juan Felipe
Shkendija – Metalurg 2:0 (2:0)
7′ Marjan Radeski, 24′ Besart Ibraimi
Rabotnichki – Renova 1:1 (1:0)
25′ Bazhe Ilijoski – 77′ Izair Emini
Sileks – Turnovo 1:1 (0:0)
76′ Nikolcho Gorgiev – 65′ (og) Marjan Mickov
Shkupi – Bregalnica 0:0