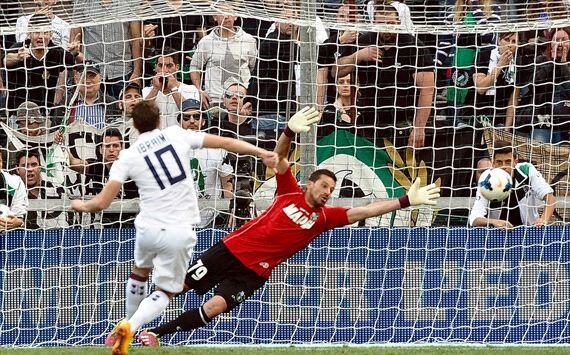 Adis Jahovikj scored the game winner for Vorskla to defeat table leaders Shakhtar Donetsk, while Agim Ibraimi converted a penalty to salvage a point for Cagliari.
Adis Jahovikj started the game at CF for Vorskla and scored the breakthrough late in the 84th minute. After a cross by Oleh Mishchenko, Jahovikj first attempted a header that Shakhtar's keeper Anton Kanibolotskiy managed to save, but Adis reacted quickly to score on the rebound to hand Shakhtar their fifth defeat of the season. A little later, in the 88th minute to be exact, he was substituted by Oleksandr Sklyar as his team looked to defend the slim lead. With the three points, Vorskla is now in 6th place with 33 points and fighting for a place in the Europa League qualifications.
Adis' goal:
https://youtube.com/watch?v=D7kRoch6wic
&hd
Meanwhile, over in Italy, Cagliari played its first game under new manager Ivo Pulga. Agim Ibraimi was given a start in the road encounter against Sassuolo, and rewarded the manager with a goal early in the 2nd half. Cagliari was down 1:0 when Ibraimi converted a penalty kick to salvage a point for his team against Sassuolo, currently second from bottom on the table.
The converted penalty by Ibraimi:
https://youtube.com/watch?v=oGKfl35K2Oo