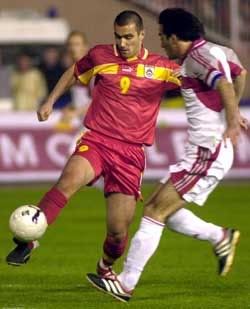 Gjorgji Hristov, former Macedonian national team member and current leading striker of the national team, moves to FK Baku in Azerbaijan.
32-years-old Gjorgji Hristov with 16 goals on 48 appearances is still the best striker of the Macedonian national team. In his long playing career he has gained great experience playing for many clubs across Europe and his next destination is Azerbaijan. In the next year he will join former Macedonian national team coach Gjoko Hadzievski in FK Baku. The small Macedonian "colony" is completed with asistant coaches Borce Hristov and Muarem Zekir, striker Dragan Nacevski, all in FK Baku and Artim Sakiri in Karabakh.
Gjorgji Hristov is born on 30/01/1976 in Bitola, Macedonia. He started his career in Pelister from Bitola and in his rich career he played for Serbian FK Partizan Beograd, English Premiership side Barnsley FC, NEC Nijmegen, FC Zwolle and FC Den Bosch in Holland, Scottish club Dunfermline Athletic FC, Hungarian Debreceni VSC, Hapoel Natzrat in Izrael, Greek PAE Niki Volou and Cypriot team Olympiakos Lefkosias.