The end result was the same, a loss, but the effort and commitment was commendable. Macedonia suffered an unlucky 1:0 loss to Spain.
If you believe in moral victories, then this was a moral victory. The Macedonian players responded to the adversity by putting up a much better fight on Tuesday.
Manager Ljubinko Drulovic did bench both Aleksandar Trajkovski and Agim Ibraimi, a possibility that we raised in our preview of the match. Only six starters were retained from the Luxembourg game (Pachovski, Shikov, Zuta, Gligorov, Petrovic, Ivanovski), while the other five were new (Brdarovski, Ristevski, Ashkovski, Hasani and Radeski).
Things started off horribly for the hosts as Spain was gifted an early goal in the 8th minute. Juan Mata was looking to make a cross from the right hand side, but his ball was mishit and it ended up surprising Pachovski. Tome made a mess of it and the ruling was later changed to an own goal by Pachovski. It was a goal that you can't concede against anybody, let alone Spain.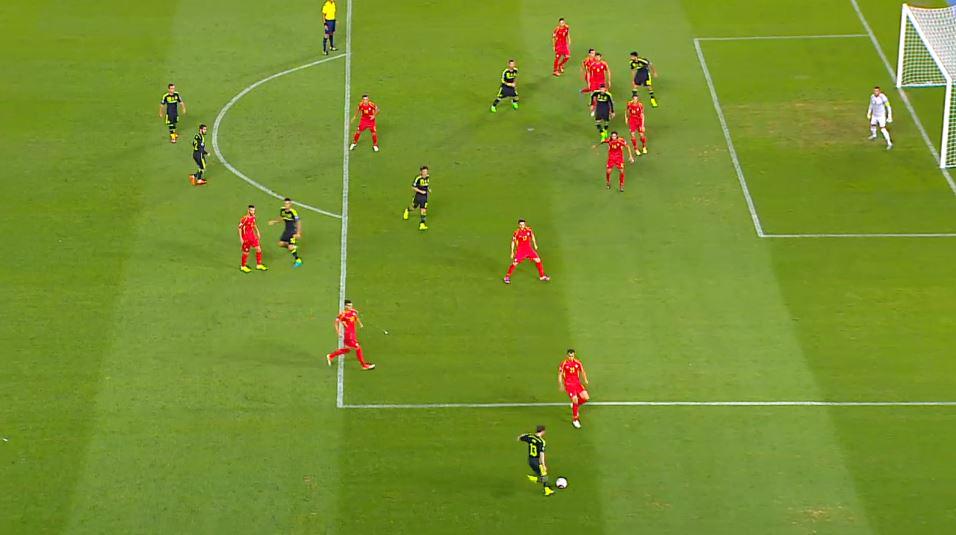 To Macedonia's credit, they did not throw in the towel after that unfortunate goal. Instead, they buckled down and played some tremendous defense. The organization, concentration and discipline should be applauded. That was top-notch defending against one heck of a team.
Spain would dominate possession (about 70%), but they could not do much with it. The visitors simply could not break down the resolute Macedonian defense. Spain had only one shot on goal, an effort that turned into a goal. Otherwise, Pachovski did not have to make another save.
In the 42nd minute, Spain nearly scored another fluky goal. From almost the same position as the first goal, a shot hit the crossbar as Pachovski did not even more. Luckily for Tome, the post saved him.
The lone goal of the game:
The attack of Macedonia did not look very threatening, but the players there were asked to track back and help out on defense. Macedonia would often have all 11 players in their own half.
Ferhan Hasani had the two best chances for Macedonia in the 47th and 60th minute. First, after he won a free kick from a great position, Hasani sent his effort inches over the goal. It was very close. Then, in the 60th minute, Spain made a last-ditch clearance in front of their goal before Hasani could pounce on the ball.
The last 30 minutes were rather dull as Spain controlled possession, but Macedonia remained very organized. Spain usually tries to tire an opponent and lull them to sleep with all their passes, but Macedonia showcased very good concentration. Spain's attack looked average, thanks in large part due to the great defending.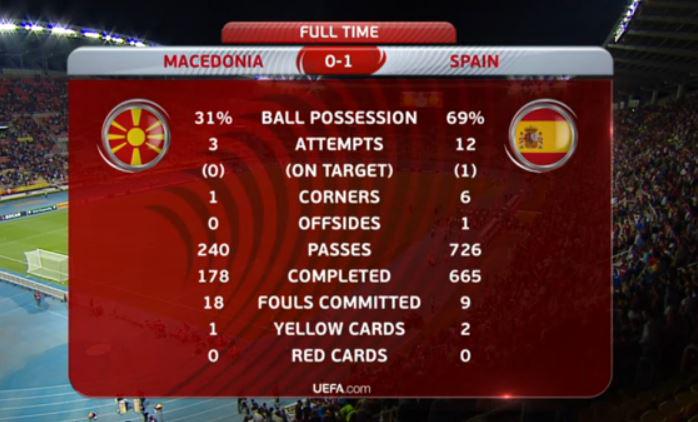 There will be no criticism of the players or the team. As we said last week, you can accept a loss when the players give 100%. That was the case today. Hats off to them for responding well to the adversity. The effort should be like that in every game.
Macedonia: Pachovski (C) – Brdarovski, Shikov, Ristevski, Zuta – Gligorov, Petrovic – Ashkovski (77′ Bardhi), Hasani, Radeski (85′ Ibraimi) – Ivanovski (69′ Trajkovski).