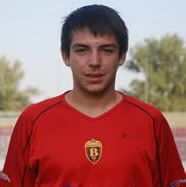 Playing for FK Vardar's first team at the age of 16, Dino Najdoski is following the steps of his father Ilija Najdoski. With his performances, the member of the U21 national team confirmed that he is a real rising star of the Macedonian football.
Dino Najdoski debuted in the Macedonian first league in the last round from the last season for FK Rabotnicki when he was only 16 years and 23 days old. This season he played seven matches for FK Vardar's first team and he is already a member of the Macedonian U21 national team. After his good performances, Dino Najdoski was voted as the biggest positive surprise of the Macedonian league 2008/09 first half-season by the members of the Macedonian football forum.
When and where did you make your first football steps and what are your successes managed so far in your career?
– I started training football in Rabotnicki when I was 9 years old. So far with my former club Rabotnicki I've won the junior's league title of Macedonia in 2004 and 2006, in 2007 we won the cup and we won the 3rd place on a tournament in Foca (Bosnia-Herzegovina).
How did you feel when you debuted for Rabotnicki in the first league when you were only 16 years old?
– I can't really explain that feeling. You have to feel that to know how I felt. I was a little nervous before the match, but it was gone when the match started. I felt great.
How hard is it to wear the shirt of the most famous Macedonian club FK Vardar on the age of 16?
– FK Vardar is something sacred for every Macedonian football player and there's a big responsibility when you play for Vardar. But for me, it's not that hard to play for Vardar because I see it as an extra motivation.
Does the fact that Ilija Najdoski is your father is a big pressure in your career or it had a positive influence on your development?
– When I started playing football, my father taught me many things and often indicated to me about some mistakes I did. But now I'm older, I'm more independent and on my own. I'm aware that I can be successful only with hard work and trainings.
There are rumors that you will follow the steps of your father. Is it true that soon you will make a transfer to FK Crvena Zvezda Beograd?
– At this moment I'm a member of FK Vardar and that's the only thing I can confirm. I don't think about other clubs as currently I'm focused on my development and training with Vardar where I will stay at least 6 more months.
Where do you see yourself in your career in 5-6 years?
– My biggest wish is to be healthy. I don't really know where I will be in 5-6 years, but my first wish is to play in the best league in the world – in the English Premiership for Arsenal.