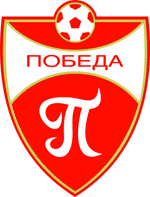 The players of Pobeda didn't arrive in Tetovo on the match against Shkendija because of the problem with their bus, but the sports newspaper "Makedonski Sport" reveals other reasons and big scandal.
The match between Shkendija and Pobeda from the 21st Round of the Macedonian First League that was supposed to be played on Sunday, 16/03/2008, was not played. The first information that came from Tetovo were that Pobeda's players had problems with their bus on the way to Tetovo and didn't arrive on the stadium.
But today, the only Macedonian sports newspaper "Makedonski Sport" revealed other reasons for the canceled match and a big scandal for the current Macedonian champion. The football club Pobeda is facing serious financial problems in the past few months and the players wanted to give end on the lies and false promisses by the president Acule Zabrcanec. In the morning before the match they informed the president that they will not travel on the match because of the debt that the club has to the players.
The president of the club tried to save the situation and called the youth squad. With a few hours late they started their journey to Tetovo, but just before the match was supposed to be started, when they understood that they will be late and their youth squad will be defeated and ashamed, they called the officials of the match and informed them that they had problems with their bus and they are unable to arrive for the match.
Under the regulations of the Macedonian Football Federation, Shkendija will most probably win this match with official 3:0.