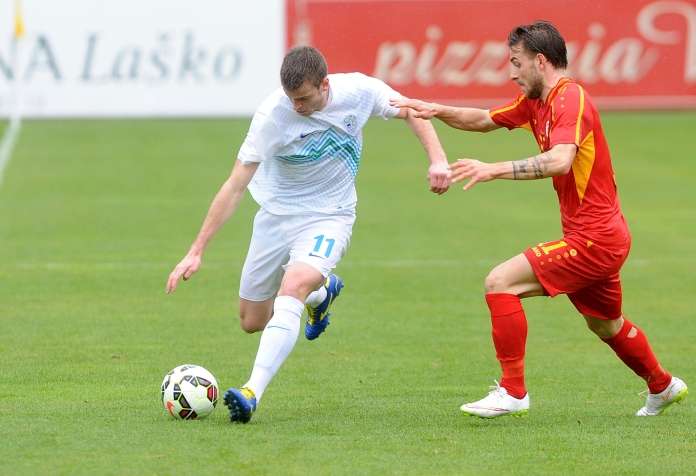 Filip Pivkovski, one of the key players on the U21 national team, talked to our site about the new qualifying cycle and his future plans concerning his club career.
In October of 2014, Filip Pivkovski debuted for the Macedonian U21 national team. That also marked the first game in charge for manager Blagoja Milevski. Since that time, Pivkovski has been called up every time by Milevski, becoming a key player on the team. Filip usually starts on the wing and scored his first goal for Macedonia U21 in the last match, a 1:1 draw against Slovenia U21 on March 30.
Pivkovski's goal for Macedonia U21:
Pivkovski was born in Malmö, Sweden and formerly suited up for the youth national teams of that country. He played up until the U19 category, even serving as the captain at times for Sweden's youth. However, Filip did not get a chance for the Swedish U21 national team, so he made the switch to play for the country of his origin in 2014.
The 21-year-old spent the past season in Italy with two clubs. He opened the 2014-15 campaign with Novara before then being loaned to Martina Franca this past January.
We talked to Pivkovski to get his thoughts on Macedonia's chances in the new U21 qualifying cycle, his opinion of manager Blagoja Milevski and his future plans, among other things.
Below is our question and answer session with Pivkovski:
MF: Filip, as a key member of the U21 national team, how do you feel about this generation of players? Can Macedonia U21 finish in the top two of the new qualifications that start later this month?
FP: I think we've already demonstrated that we are a strong group and a strong team with many qualities. We respect every team in our group and know they all have quality, but we don't fear anyone. We play to win every single game!
MF: What can you tell us about manager Blagoja Milevski? You guys have not lost as a team after his appointment in September of 2014.
FP: I think his game record speaks for itself so far. He is a very good coach. He has a lot of knowledge, and I have learned a lot from him and I will keep on learning a lot. It's a pleasure playing for him.
MF: Based on what you see in trainings, besides the players that play abroad, who are some domestic league players that have impressed you on the U21 team?
FP: I think Darko Velkovski is an amazing football player. I think it's only a matter of time until he transfers abroad like the rest of us.
MF: Filip, what did a typical day look like for you as a member of Martina Franca? How often did you guys train and how is the travel situation? Were there big differences between Martina Franca and Novara?
FP: On a typical day, we meet for lunch at 12 o'clock at the club's restaurant and then head to the stadium where we train at 2 o'clock for about two hours. You are then free for the rest of the day, and if you want there is dinner served at the restaurant in the evening too. In Novara you felt like a Serie A player with the facilities, organization and so on. So, of course you feel the difference from a club that only 2 years ago was in Serie A and the other one that was in Serie D.
MF: Lastly, what is your contract situation like? Your loan to Martina Franca ended. Are you still under contract with Novara, or will you be a free agent this summer?
FP: I'm still under contract with Novara, yes. I will not stay in Italy if it's not with Novara. However, if Novara has no place for me, I would like to move back to Sweden and make sure they haven't forgotten about me over there.