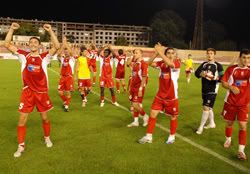 Two weeks before the start of the second part of the season, the transfer market has closed and clubs have finished buying or selling footballers.
Here
You can find the majority of the transfers that happened in this transfer window. On first sight, it is visible that Baskimi have been the most active club with bringing no less than 19 new players. Shkendija HB as well has many new players. It seems that for Napredok this window wasn't of crucial importance and they beleive in the players that are already in the club. Let's review the more important transfers.
One of the biggest 'winners' in this period, surely is Rabotnicki. They've managed to make a record selling of their star striker Ivan Trickovski to Red Star Belgrade for excellent 800.000 Euros. Though previosly he has been linked to bigger European clubs, such as Belgian Anderlecht for instance, this surely looks like the most important transfer that has happened on the beginning of this year. On his place, they've managed to sign Boban Jancevski. He is a well-known name in Macedonia. After having more than succesful season in Baskimi and Renova, he has moved to Belgium, before once again returning in Macedonia. Rabotnicki have also sold Kirovski to Ukrainian Vorskla Poltava, Ignjatov to Beijing Guang from China and Filip Madzovski to local rivals Milano. But, their new signings look as strong as the players that left. They've bought the Serbian midfielder Ivan Jovanovic, the goalkeeper Kmetovski and Gjosevski who has played for Ethnikos from Greece. All in all, with this squad and the advantage gained from the first part, it would be ashame if Bekvalac doesn't manage to win the title with his Rabotnicki.
Milano have also made some transfers worth mentioning. They have significantly strengthened their squad on the goalkeeper position with the signing of Madzovski and Nuredinovski. Alimi, who has played for Baskimi and has been scouted by Scandinavian teams several times this season, has switched to the younger team from Kumanovo, also. Their attack will also be much stronger now, after the signing of Borce Manevski from FK Pobeda. Whether Milano will be able to keep the race with Rabotnicki for the title, it remains to be seen.
Vardar have lost several important players such as their best striker Jovan Kostovski who has moved to Greece in OFI. Stjepanovic, Milosavljev, Despotovski…They surely will be missed in Vardar's squad. However, it looks like we will be seeing 'samba' on Gradski this year, after Vardar signed 3 players from Brazil. Most is expected from Roberto Carlos, but not the famous left back, unfortunately. Stratev had praising words for Carlos' ability during the preparation period.
Pelister have lost the standard first-team player Ruteski, but has received a new Brasilian player from Bulgarian partners PFC Litex Lovech. 18-years-old Miranda has quickly adapted in the new club and scored his first goal for the team on the friendly games played during the winter break. The club from Bitola has also brought back Pitoska from Marek, Bulgaria.
Champions Pobeda look like one of the teams that has lost the most in this period. Itua, Đorović, Manevski, Meglenski, Gilson, Almeida…. Several very important players have left the team and Cuculi, Tripunovski and Savevski are bought along with several 'anonimous' players from Serbia, as Pobeda reinforcements.
Renova has hired veteran striker Zoran Miserdovski along with 3 new names and 3 players have been released from duties with the Dzepciste's club. Pretty much the same squad from first part.
Makedonija Gjorche Petrov has left without 3 solid players. Milosevic has left to Austria, after his contract ended, Dimovski has moved to East in Russian Terek and Milosavljevic has went to Serbia. Kocev has also left the squad, while the 2 reinforcements are from Cementarnica 55 – Dragan Brnjarcevski and Milevski Bobi. Probably Makedonija should look for its chance via the cup where they are in the semi-final.
Napredok is one of the teams that was very passive during this window. Only signed 2 goalkeepers and one attacker should be on the way, while 2 standard players have left them. Probably much will be counted on the youngsters.
Sileks have made some changed to the squad. The most notable is the signing of the Nigerain striker Musa Ali. Their biggest loss is probably the departure of Todorovski to Dinamo from Bucuresti.
Shkendija HB have seriosly strengthened the squad with the signings of several solid players, such as Ruteski from Pelister, Itua from Pobeda, Idrizi from Rabotnicki, Delovski from Croatian Rovinj etc… However, several standard players have also left the squad. Shakiri has went to Albanian Besa, Cuculi to Pobeda, Emurlahu has returned to Vardar… Overall, it looks like the new sponsor of Shkendija HB wants to be safe that his team will not finish on the 'red' positions.
Cementarnica look like 'losers'. Brnjarcevski, Bogatinov, Nuredinovski, Jakovlevski… All have left the squad after finishing last but one in the first part of the season. Like this, it looks almost certain that Cementarnica 55 are on of the top candidates for moving in the lower part of competing.
And last but definitely not least, is Baskimi. The most active club. While many of the players that came to Baskimi are from the 'sister' club Milano, there are several other transfers that are worth mentioning. Jovica Trajcev, the former Vardar player, has returned from Belgium and will be helping Baskimi in order to avoid relegation.
To sum up, the winter football transfer market was interesting. Many players have been swapped, many have left the country in order to search for a better future. Trickovski, Ignjatov, Limani, Kostovski, Todorovski… All of them will be playing abroad where they will probably make a progress in their careers and one day, maybe, we will see them in the national team shirt. The financial details from most of the transfers are once again kept secret or we can only guess. The record transfer was definitely the one that got Tricko moving to Marakana for almost a million of Euros. Again many teams lost players without fee because of endind of the contracts. Routine for Macedonian football. Anyways, if not so much for title, then we are surely heading into a exciting battle for the spots that bring European competitions caps and for the last 2 places that are heading straight down to the Second League.