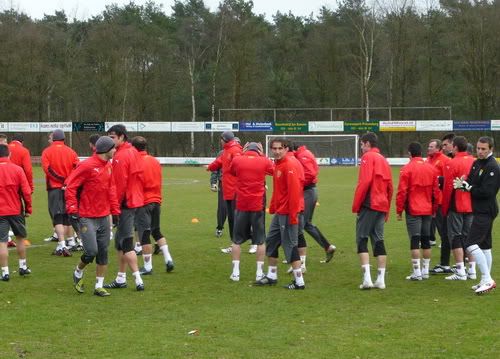 The Macedonian national team has been preparing in Soestduinen, near Utrecht in the Netherlands since 26th. With ten trainings before the match on Wednesday, the players and the coach Katanec hope that Macedonia can surprise the Netherlands for the third time.
With hard trainings and relaxed atmosphere in the hotel in the small place Soestduinen near Utrech, away from the pressure of the Macedonian media and Macedonian football fans, the Macedonian national team is preparing for the upcoming match against Netherlands on Wednesday.
The one who is directly involved in the Dutch football, Goran Popov from Heerenveen, has positive experience from the Amsterdam ArenA where the match will be played, as not long ago, he together with his team celebrated a victory over Ajax on this stadium.
– I hope that I can celebrate a win with the national team too on the Amsterdam ArenA. Most important will be not to lose. Holland is a world class team with world known football stars, which should motivate and not scare us, said Popov.
Macedonian hopes definitely rely on the performance of the leader Goran Pandev from Lazio who also thinks that Macedonia can celebrate this time.
– Same as in Skopje, this will be a very tough match as not just that Holland is the best team in our group, but also one of the best in the world. For me, it has always been a big challenge and additional motivation to play against players like Robben, van Persie and Huntelaar. They were very lucky on the last match in Skopje and I think that it's our turn this time, said Goran Pandev.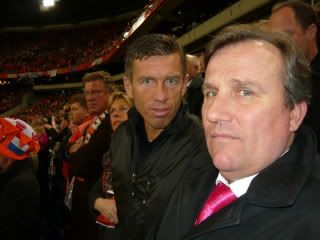 The Macedonian national team coach Srečko Katanec together with his assistant Vujadin Stanojkovik watched the match between Netherlands and Scotland on the Amsterdam ArenA and expressed his impressions for FFM's website:
– The Netherlands have once again shown that is one of the European best teams. Together with Spain, they play the most modern football. Against Scotland, they slowly built their play and pushed the opponent in their field. Our aim will be to make more passes and to try and keep the ball longer and if we succeed in that, then we can come closer to their goal more often.
The Macedonian national team will have three more trainings before the match and in the meantime, they are relaxing in good atmosphere in the hotel in Soestduinen. A lot of Macedonians who live in The Netherlands and the neighboring countries have visited their trainings and given them the support and bigger support of few thousand Macedonians is also expected on the Amsterdam ArenA on Wednesday at 20:45.