In a game featuring five goals and lots of rain, Macedonia lost 3:2 against Italy to face an early elimination.
Just like the England game two days ago, today's match was also played in tough conditions under constant rain. The U19 national team of Macedonia was much improved, but fell short in the end. The game against Italy was very intense with lots of goals, penalties and red cards.
Italy was first to score as they were awarded a penalty kick in the 11th minute when Sabahudin Alomerovikj fouled Luca Vido in the box. The very same player converted the penalty to give Italy the 1:0 lead. Macedonia quickly equalized five minutes later. It was Alomerovikj who made amends. His long free kick was misplayed by Italy and it resulted in a goal.
Some ten minutes before the half, Federico Dimarco brought down Remzifaik Selmani for a Macedonian penalty. Stefan Jeftoski took the spot pick and calmly converted. That ensured a 2:1 halftime lead.
The pitch got worse as the match went on due to the rain, but still Italy showed good composure retake the lead. Italy's #10 Luka Vido completed a hat-trick by scoring two quick goals in the span of three minutes. Those came in the 69th and 71st minute, both on shots from inside the area. Italy now led 3:2 which also proved to be the final result.
The rest of the fixture saw three total red cards, one for Italy and two for Macedonia. Both red cards for Macedonia were very questionable as the players were irate with the referee. The official was card-happy and lost control, killing any chance of Macedonia getting back into it. After this latest loss, Macedonia has already been eliminated from these qualifications.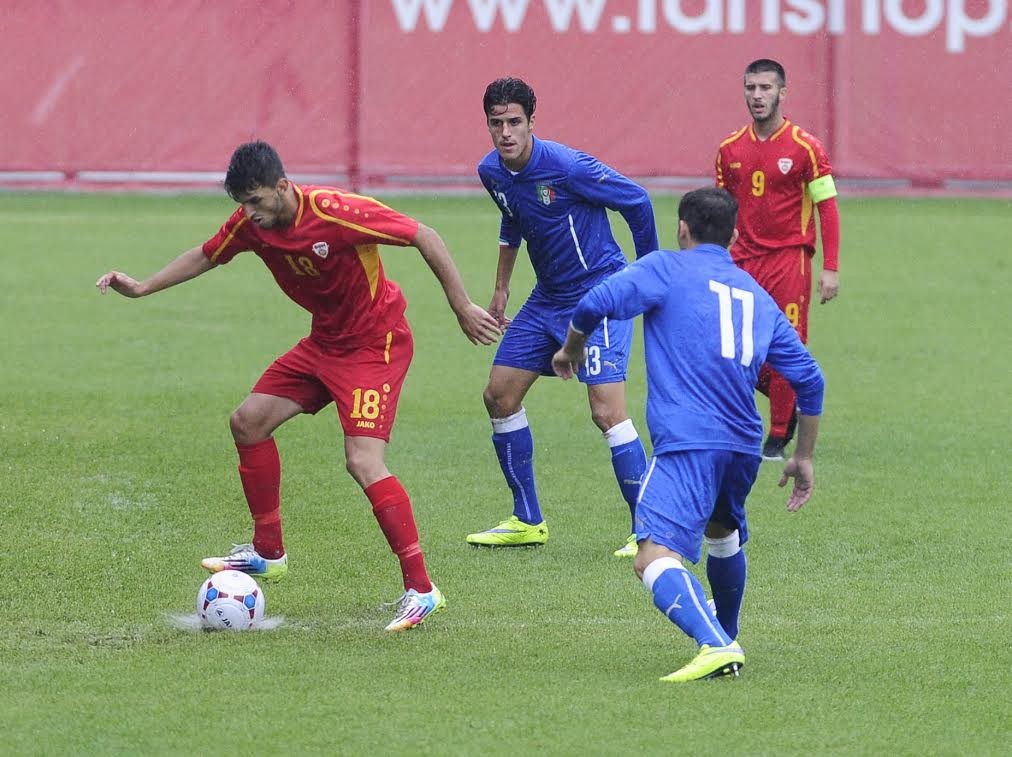 England beat Finland 1:0 in the other game to book a spot in the Elite rounds. The last matchday is scheduled for Tuesday when Macedonia faces Finland and England meets Italy. The top two teams will progress, while Macedonia will be looking to avoid last place in its match versus Finland.
Petar Miloshevski training center in Skopje
Italy U19 – Macedonia U19 3:2 (1:2)
Goals: 11′ (pen), 69′, 71′ Luca Vido – 16′ Sabahudin Alomerovikj, 34′ (pen) Stefan Jevtoski
Italy: Alex Meret; Federico Dimarco, Andres Llamas, Mauro Coppolaro, Diego Borghini; Simone Minelli (C) (60′ Edoardo Soleri), Alberto Picchi, Manuel Locatelli, Alfredo Bifulco (46′ Paolo Ghiglione); Giuseppe Panico, Luca Vido.
Macedonia: Bobi Celeski; Sabahudin Alomerovikj (26′ Hristijan Karanfilovski), Stefan Jevtoski, Nehar Sadiki, Shaip Tela; Remzifaik Selmani (66′ Martin Hristov), Burim Avdulahi, Davor Zdravkovski, Emil Abaz; Valentin Kochoski (76′ Stefan Lazarevikj), Petar Petkovski (C).
Yellow cards: Panico, Vido (I), Alomerovikj, Tela, Zdravkovski, Jevtoski, Petkovski, Hristov (M)
Red cards: 73′ Soleri (I), 74′ Sadiki, 83′ Lazarevikj (M)
Referee: Nicolas Laforge (Belgium)
Assistants: Karel De Rocker (Belgium), Teodoro Sobrino Magán (Spain)
Fourth official: Alejandro Hernández (Spain)
The table after Round 2:
| | | | | | | |
| --- | --- | --- | --- | --- | --- | --- |
| Group 4 | MP | W | D | L | GD | P |
| England | 2 | 2 | 0 | 0 | 3:0 | 6 |
| Italy | 2 | 1 | 1 | 0 | 4:3 | 4 |
| Finland | 2 | 0 | 1 | 1 | 1:2 | 1 |
| Macedonia | 2 | 0 | 0 | 2 | 2:5 | 0 |