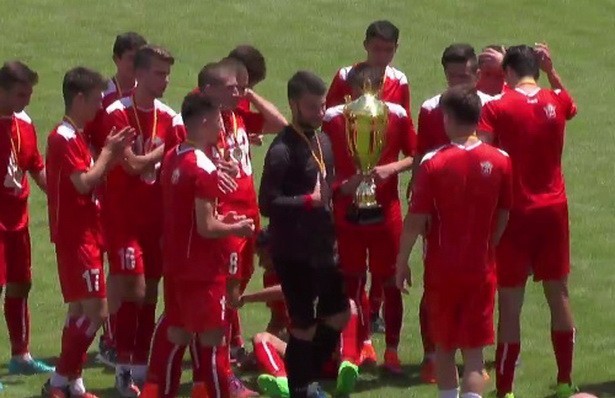 The U18 players of Rabotnichki are the winners of the 2016/17 edition of the U18 Macedonian Cup after they defeated Akademija Pandev with 3:0 in the final played in Ohrid.
The first of the four finals games in all youth categories was played earlier today. Ohrid with the Atina Bojadji stadium (or formerly known as Biljanini Izvori) is the host city for all final games. Akademija Pandev faced Rabotnichki with the first half ending goalless, but the team from Skopje scored three golas after the break to claim the trophy. The goals were scored in a 15 minutes span from 68th to 83rd minute. Since it was already clear who the winner will be, the coach of the losing side decided to use all the possible changes giving a change tro every players to take part in this final game.
Atina Bojadji stadium in Ohrid
Akademija Pandev U18 – Rabotnichki U18 0:3 (0:0)
Goals: 68′ Stefan Bogdanovski, 75′ Mario Stankovski, 83′ Mile Todorov
Akademija Pandev: 1. Kostadin Karakirov (89′ 12. Darko Panov); 3. Dimitar Tasev (89′ 15. Aleksandar Kirov), 4. Vasko Trajkov (89′ 20. Isein Zejnoski), 5. Nikola Spasov, 13. Trajche Petrov, 7. Azdren Mena, 16. Mario Gocevski (89′ 9. Hristijan Timov), 8. Bane Milkovski (C) (85′ 6. Martin Velichkovski), 17. Emir Skenderi (64′ 14. Vasil Krstev), 10. Darko Razmoski, 11. Kristijan Velinovski (79′ 19. Zoran Ivanovski).
Rabotnichki: 1. Antonio Djamtovski; 2. Evgenij Kostadinov (C), 3. Meris Fakikj (84′ 14. Kristijan Eftimov), 4. Andrej Janevski, 5. Oliver Stoimenovski, 6. Stojche Kocev, 7. Stefan Bogdanovski (87′ 16. Kristijan Trpevski), 8. Mile Todorov (89′ 15. Gjorgji Poposki), 9. Mario Stankovski, 10. Omar Imeri (76′ 17. Fisnik Chakri), 11. Andrej Lazarov. Bench: 12. Mario Ivanoski; 13. Adis Cholakovikj, 18. Filip Tanevski.
Yellow cards: /
Red cards: /
Referee: Stojanche Stojanov (Shtip)
Assistants: Goran Manasiev (Veles) & Kristijan Djonov (Shtip)
Fourth official: Done Ristovski (Gevgelija)
To reach the final Rabotnichki first destroyed Vardar Negotino with 8:1, then eliminated Pelister by celebrating a 1:0 win in Bitola, while in the semi-finals they played 1:1 with Belasica before making it 7:1 in the return leg on the road.