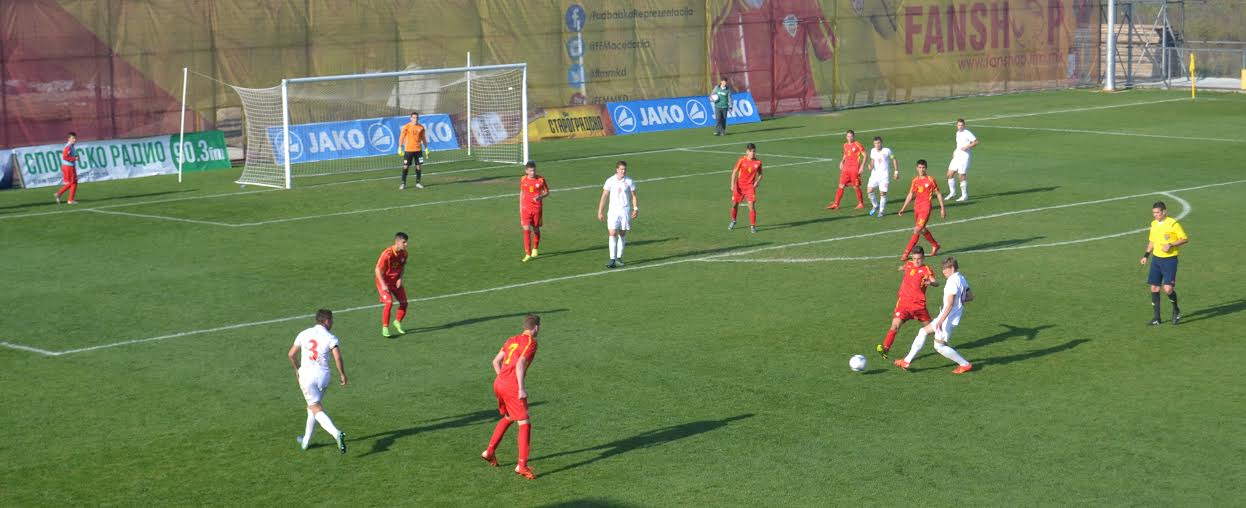 The U16 national team of Macedonia celebrated a 3:1 win over Serbia in the opening match of the friendly tournament in Skopje.
The friendly tournament hosted by the Football Federation of Macedonia features the U16 national teams of Macedonia, Serbia and Italy. It started on Monday with the first game being Macedonia against Serbia.
The young Macedonians managed to beat their northern neighbors by the score of 3:1. Serbia actually scored the first goal early in the 5th minute directly from a free kick after a bad midtake by the Macedonian keeper. Enis Fazlagikj equalized for Macedonia in the 26th minute when he converted a penalty. The halftime result read 1:1.
In the second half, the young Macedonians managed to put the game away with two goals. Bojan Kolevski netted the second goal in the 61st minute after being set up by Amel Rustemovski, while Swedish born debutant Dejan Kulushevski notched the last goal following a fantastic solo run.
Petar Miloshevski training center in Skopje
Macedonia U16 – Serbia U16 3:1 (1:1)
Goals: 26′ (pen) Enes Fazlagikj, 61′ Bojan Kolevski, 80′ Dejan Kulushevski – 5′ Armin Đerlek
Macedonia: Luka Nakov (41′ Malik Ziberi); Viktor Rizankovski (41′ Adrian Hajdari), Kristijan Dodevski (75′ Filip Antovski), Angel Stratorski, Besir Ramadani, Martin Ristov (57′ Altin Sefo), Dejan Kulushevski (80′ Kristijan Ristevski), Mario Naumoski (50′ Darko Churlinov), Bojan Kolevski (C), Enis Fazlagikj, Amel Rustemovski.
Serbia: Miloš Gordić; Aleksandar Kostić, Zlatan Sehović, Artom Zekaj, Svetozar Marković, Jovan Vladimir Pavlović, Filip Stuparević (69′ Luka Marković), Zeljko Gavrić (59′ Radivoj Bosič), Dušan Vlahović (69′ Slobodan Tedić), Armin Đerlek (C) (73′ Marko Janković), Nikola Stošić (65′ Milan Savić).
Referee: Igor Stojchevski (Macedonia)
Yellow cards: Pavlović (S)
Red cards: /
UPDATE: The next match of this friendly tournament was played Wednesday when Italy beat Serbia with 3:0. Now remains for Macedonia and Italy to close the competition on Friday at 11.00 CET. All games take place at the Petar Miloshevski training center within the headquarters of FFM.
Table after Round 2:
| | | | | | | |
| --- | --- | --- | --- | --- | --- | --- |
| | MP | W | D | L | GD | P |
| Italy | 1 | 1 | 0 | 0 | 3:0 | 3 |
| Macedonia | 1 | 1 | 0 | 0 | 3:1 | 3 |
| Serbia | 2 | 0 | 0 | 2 | 1:6 | 0 |