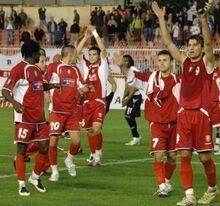 Rabotnicki Kometal from Skopje completed their successful season with another title. With the 2:0 win in the Macedonian Cup Final over FK Milano from Kumanovo, Rabotnicki ends the season with the double crown.
Gradski stadium – Skopje
 FK Milano Kumanovo





 –   FK Rabotnicki Kometal Skopje


0 (0)


 

2 (2)


 26' 42' Nderim Nedzipi
The Macedonian Cup final started with cautious play by both side. As expected, the Gradski stadium in Skopje is not full but both clubs have solid support by their fans. The strong sun hid behind the heavy clouds and the rain started that will probably cause small problem to the players. No serious chance was created in the starting 15 minutes.
GOAL! Rabotnicki took the lead in the 26th minute after a fast attack. Demiri and Pejcic took the ball in the opponent's box and passed it to Jancevski who quickly found Nderim Nedzipi on the other side of the box who didn't found it hard to score against Nuredinovski who wasn't able to save the goal.
GOAL! Big lead for Rabotnicki now. A free kick was awarded for Rabotnicki on the left side. After a great cross Nderim Nedzipi with a header put the ball in Nuredivoski's goal who failed to clear this high ball in his box.
Half Time. Rabotnicki go on the half time with a huge lead of 2 goals, both scored by their captain Nderim Nedzipi. The rain stopped and the weather is ideal for the players to open their play in the 2nd half, especially for Milano who are 2 goals down and will have to start creating more chances.
Nothing new in the 2nd half. Rabotnicki still has more possession but takes no risks and Milano's ways to the opponent's goal are closed. It looks like the situation is more interesting on the stand then on the pitch, where the fans on both side are insulting each other with their chants.
Milano fails to create chances and attack on Rabotnicki's goal, while the Macedonian champion is controlling the match and slowly taking it to the end.
Full Time. Rabotnicki Kometal wins the Macedonian Cup! With cautious but sure play, the players of Rabotnicki Kometal have completed the season with another success. Their first Macedonian cup title was added on their 3rd league title. With the double crown Rabotnicki proved to be the current best Macedonian football club. Last year's 2nd league side Milano from Kumanovo were real refreshment in the Macedonian football and they have to be happy and satisfied with playing in the Macedonian cup final, the 2nd position in the Macedonian league and the secured UEFA Cup matches for next season.