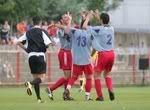 Cementarnica made the biggest upset this round in the Macedonian First League by surprising the leader Rabotnicki Kometal. Milano won against Vardar and reduced Rabotnicki's lead on 6 points.
Rabotnicki's 8 matches winning streak was stopped in the 14th round by the last placed Cementarnica. This is probably the biggest surprise in the Macedonian league in the last few seasons. Rabotnicki started the match with few changes in their starting lineup, convinced that they shouldn't have problems with Cementarnica. But Cementarnica proved to be very hard opponent for the stronger teams and not just that they managed to defend from the numerous chances by Rabotnicki's strikers, but they even created some serious chances on Rabotnicki's goal.
Milano had the biggest "profit" this round with Rabotnicki's surprise and with their victory over rivals Vardar. The guest started the match with few good chances, but after their missed shots Miserdovski in the 40th minuted scored after Milano's only chance on the match. In the second half the hosts successfully managed to keep the lead and get on 6 points behind Rabotnicki.
Like in the last few rounds, there were many goals on Bashkimi's match again in this round, but this time the bookmakers were smart enough to block their match for betting. Bashkimi had great start of the match and even had 3:0 lead. But current champions Pobeda quickly took control of the match and managed to overcome Bashkimi by scoring 4 goals and taking the points to Prilep. After the end of the match some furious home fans, mad because of Bashkimi's defeat, managed to enter the pitch and attack the referee Stavrev. This is not the first serious incident on Bashkimi's stadium and big sanction is expected again.
Although 3 goals were scored on "Gjorche", the match between Makedonija GP and Renova was very boring for big part of the Macedonian football fans who know something more about the football in Macedonia, because many of the "guessed" the final outcome long time before the kick-of. Renova took the lead in the first half and Makedonija made a turnover on the beginning of the second half. The third goal in the 58th minute was the last event that happened on the pitch because neither of the players from both side had the wish to change something, especially not the final outcome of the match.
The things around Shkendija are changing and starting to go on better. Positive results are coming after the some staff and players changes. Loaned Emurlahu with nice goal in the second half, brought the win for Shkendija over Pelister and another points in their relegation battle.
Napredok also won very important 3 points in the battle against relegation. Sileks took the lead in the second half, but Niceski scored twice and kept the points in Kicevo.
10/11/07

Milano
Miserdovski 40
1-0
Vardar
11/11/07
Baskimi
Alimi 6, 13(p), Zivadinovic 23
3-4
Pobeda
Manevski 35, 45, Shabani 70(o), Geshoski 73
11/11/07
Makedonija
Simovski 51, Fazli 58
2-1
Renova
Nuhiu 11
11/11/07
Rabotnicki
0-0
Cementarnica
11/11/07
Shkendija
Emurlahu 61
1-0
Pelister
11/11/07
Napredok
Niceski 58, 87
2-1
Sileks
Natkov 52(p)
| | | |
| --- | --- | --- |
| | Soccer, Macedonia, Prva liga 07/08 | |
| | | | | | | | | | |
| --- | --- | --- | --- | --- | --- | --- | --- | --- | --- |
| Pos | | Team | P | W | D | L | Goals | Goal diff | Points |
| 1 | | Rabotnicki | 14 | 11 | 3 | 0 | 27:4 | 23 | 36 |
| 2 | | Milan | 14 | 9 | 3 | 2 | 29:12 | 17 | 30 |
| 3 | | Vardar | 14 | 7 | 5 | 2 | 25:9 | 16 | 26 |
| 4 | | Pelister | 14 | 6 | 4 | 4 | 15:12 | 3 | 22 |
| 5 | | Pobeda | 14 | 5 | 6 | 3 | 19:18 | 1 | 21 |
| 6 | | Makedonia | 14 | 6 | 1 | 7 | 19:23 | -4 | 19 |
| 7 | | Renova | 14 | 5 | 3 | 6 | 12:15 | -3 | 18 |
| 8 | | Sileks | 14 | 4 | 5 | 5 | 15:17 | -2 | 17 |
| 9 | | Napredok | 14 | 3 | 5 | 6 | 14:23 | -9 | 14 |
| 10 | | Baskimi | 14 | 3 | 2 | 9 | 21:37 | -16 | 11 |
| 11 | | Shkendija | 14 | 2 | 3 | 9 | 6:21 | -15 | 9 |
| 12 | | Cementarnica | 14 | 1 | 4 | 9 | 11:22 | -11 | 7 |
Rabotnicki-Cementarnica (0:0) and Makedonija-Renova (2:1)
https://youtube.com/watch?v=D8PecZfbsKU
400 300]
Video from a1.com.mk